Relaxation of limits meant to offset effects of aging population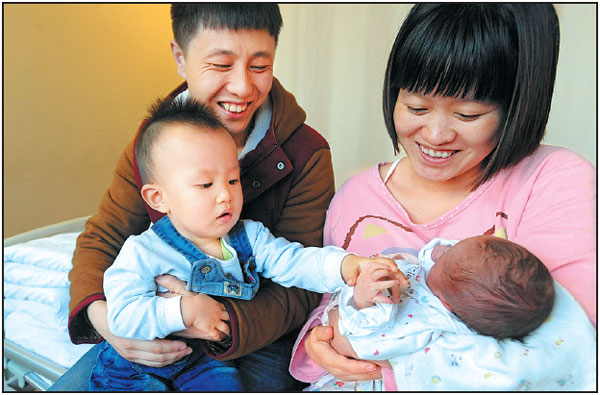 A couple both born after 1990 hold their children, an infant daughter and her 18-month-old elder brother, in Shenyang, Liaoning province, on Jan 3. Many couples responded to the chance to have a second child after policies were eased.Lihao/ For China Daily
When China relaxed its four-decade one-child policy at the start of 2016, there were a variety of predictions on whether the change in family planning rules would encourage enough people to have a second child.
Some said there would be too few to offset the effects of an aging population, citing reluctance by urbanites to increase the size of their families in the face of increased costs and new lifestyles.
Others predicted a baby boom because, after all, Chinese people love babies.
Now the numbers are: The number of newborns in 2016 will exceed 17.5 million, roughly equivalent to the population around the year 2000, said Wang Peian, deputy head of the National Health and Family Planning Commission, at a Senior Consultation on Population and Development hosted by the China Population and Development Research Center in Beijing on Nov 26, 2016.
In the first half of 2016, the proportion of Chinese newborns who were second children grew to 44.7 percent of total newborns.
That's an increase of some 6.9 percentage points over the proportion of second-child newborns for the whole of 2015, which was 37.9 percent. A total of 8.31 million newborns were registered nationwide this year by the end of June, according to the National Health and Family Planning Commission.
Some regions, mostly large cities, are beginning to see second children comprising more than half of local newborns, the commission said.
Available data indicate it's the highest proportion of second children since China introduced its family planning policies in the late 1970s, limiting most couples to just one child, the commission told China Daily.
In 2014, more exceptions to the one-child policy were introduced, such as the exception that allowed a second child when one parent was an only child. The number of second children began to grow.
The universal two-child policy was adopted by China's top leadership in October 2015, and it began to be implemented nationwide in 2016.
The new statistics make it clear that some families got started early in their planning for a second child, before the policy became official. The numbers are anticipated to go up for the year's second half.
"We expect a clear increase in the total births for this year, and an even larger share of second-child newborns," the commission said.
That's an important development, said Yuan Xin, a population scientist at Tianjin-based Nankai University, who advises the commission.
"If this grows into a trend, then the new two-child policy will prove to be working," Yuan said. What he means by "working", Yuan stressed, is that the policy would held redress, over the long run, the challenge from a dwindling work force and rapidly aging population.