'Baby walkers' broaden horizons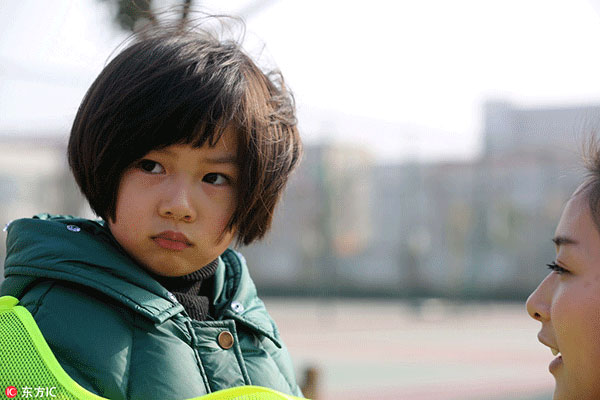 A child and a young woman pose for an advertisement in Bengbu, Anhui province, Dec 29, 2015. [Photo/IC]
A new type of preschool education has emerged in China's big cities, catering to the needs of parents who want to ensure their children are engaged in meaningful outdoor recreation during the weekend.
The focus is on broadening children's horizons, finding them new playmates and developing their social skills, according to Peng Lin, marketing director at an outdoor kindergarten teacher agency in Wuhan, the capital of Hubei province.
Outdoor kindergarten teachers organize weekend recreational activities in the open air for children ages 3 to 6 and their parents.
Known as "baby walkers", these specialized teachers began to appear about two years ago, and demand for their services is on the rise, said Peng. "Parents will pay several hundred yuan to participate in an activity organized by an outdoor kindergarten teacher. Most activities take place locally, but we have organized trips as far away as Malaysia," she said.
Those whom Peng dubs her "top-tier employees" can earn more than 10,000 yuan ($1,450) a month.
This is because outdoor kindergarten teachers need to have a good educational background in preschool education or sports, Peng said. "A good teacher should know the children well, play with them and protect them."
Zheng Wei, a 23-year-old outdoor kindergarten teacher, said the job can be demanding. He and his colleagues are often hard-pressed to encourage the children in their care, sometimes resorting to clapping their hands and dancing to motivate the shyer ones.
"We're not having fun without a purpose," he said. "Parents normally have specific requirements for us, such as exercising the children physically and broadening their horizons."
Often, parents turn to outdoor kindergarten teachers when they have exhausted all other options for spending quality time with their children on weekends, such as in libraries, zoos or movie theaters.
Huang Fangjin said she had taken her 6-year-old son to dozens of activities organized by such teachers.
"Our kids would be lonely if we took them out by ourselves on weekends," she said. "These activities are wonderful. Kids can learn so much about teamwork and make new friends."
Zhang Wenjing, principal of Xinqiao Bilingual Kindergarten in Wuhan, said the new-style teachers can "help a lot in initiating children's teamwork and communication abilities".
Liang Shuang contributed to this story.