Parents choose to educate child in great outdoors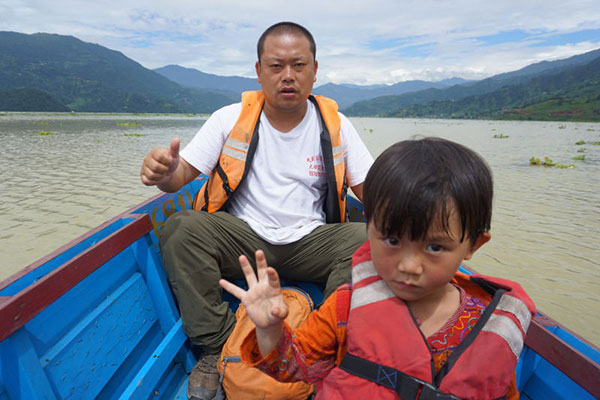 Pan Zhenwen and her father, Pan Tufeng, travel by boat during a trip to Pokhara, Nepal, in August. Provided to CHINA DAILY
Pan Zhenwen has covered a lot of ground for a 4-year-old.
For about the past three years, she has spent six to seven months a year hiking with her father all over China. And this month, they set off on a new adventure-walking part of the route of the Long March.
The duo left Chengdu, capital of Sichuan province, by bus on Nov 18 and planned to wander from Luding to Xinlong over about a month.
The Long March, which lasted from October 1934 to October 1936, was a military maneuver by the Red Army, the forerunner of the People's Liberation Army. The route features raging rivers, snow-covered mountains and arid grasslands.
"My dad never carries me when I'm tired (of walking)," Pan said. "He says he wants me to be strong."
Her 38-year-old father, Pan Tufeng, who sells honey online, said he and his wife, Yuan Rui, 40, decided not to place their daughter in a kindergarten because they wanted nature to be her classroom. The couple also have a 7-year-old son.
"She will have at least 12 years at school, starting at the age of 7. For now, we want to teach her things she will not learn about in the classroom," Pan Tufeng said, adding that he also wants to spend quality time with his daughter.
This summer, Pan Zhenwen and her father, who live in Shangrao, Jiangxi province, hiked the road that connects Sichuan to the Tibet autonomous region, and they recently spent a week walking in Thailand.
The parents' decision to keep their daughter out of kindergarten divided public opinion after Chinese media published reports on the duo's exploits.
An online poll of more than 3,000 people by West China Metropolis Daily in Chengdu found that only 31.5 percent are in favor of such parenting. Among the critics were those who said the girl is too young to cope with so much strenuous exercise.
The Pans' story has also motivated some people. A young mother from Chengdu, who took her 5-year-old daughter to Thailand with the Pans, said: "My daughter played with Wenwen (Pan Zhenwen) for a week and was willing to spend more time walking. Before the trip, she had often wanted me to carry her."