Infrastructure, says Fu, can link nations
Head of NPC foreign affairs panel says Sino-US cooperation may enter new phase under Trump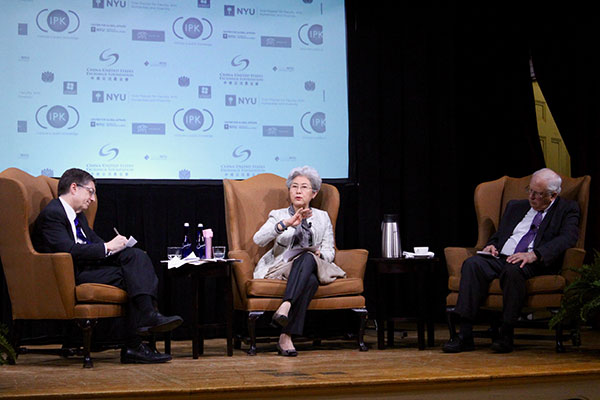 Fu Ying, chairwoman of the Foreign Affairs Committee of the National People's Congress, attends the China-US forum on Thursday held by New York University and the China-US Exchange Foundation at the NYU Law School. Hezi Jiang / China Daily
Fu Ying sees infrastructure as a great opportunity for US-China cooperation under the Western country's president-elect.
"You need a bigger harbor," said Fu, chairwoman of the Foreign Affairs Committee of the National People's Congress of China, drawing chuckling from the audience during a China-US forum on Thursday held by New York University and the China-US Exchange Foundation at the NYU Law School.
Fu said that the CEO of China's largest shipping company, COSCO Group, told US legislators two years ago that their country had to upgrade its ports to increase its exports.
"But America doesn't want to take investment from other countries, like China, and you don't invest yourself," she quoted the CEO as saying.
The election of Donald Trump may bring a new phase, she said, because he vowed to "transform America's crumbling infrastructure".
"The US needs to be more open. I think there can be very, very good cooperation," said Fu, who formerly served as China's ambassador to Australia and the United Kingdom. "China borrowed from all over the world to build our infrastructure, and now we are building railways and highways in Africa."
Asked if she worries about a changing landscape of US-China relations under the Trump administration, Fu said it was too soon to tell, but she is not pessimistic.
She said the phone call between President Xi Jinping and Trump was "very encouraging", as Trump agreed with Xi that cooperation is the only choice between the two countries, and they will advance the relationships to bring more benefits to the people of the two countries.
She said a trade war between the two was unlikely.
"It will bring too much damage after some calculation," Fu said. "Especially (because) your president-elect is a businessman. He's smart enough."
But she hopes for trade and investment between the countries to improve, and wants the US to be more clear and consistent with its message.
She suggested the US government and political candidates should be more careful with rhetoric about China. "People are listening. The world is listening," she said.
Also in attendance was J. Stapleton Roy, a senior US diplomat who spent much of his career in Beijing, Hong Kong and Taipei.
Roy agreed with Fu on the idea of infrastructure, and said the two countries should further cooperate on climate change and cybersecurity. He said the US may still participate in China's Belt and Road Initiative even though it was not interested in joining the Asian Infrastructure Investment Bank project, which he considered a mistake.
Fu said, "We were surprised and disappointed that the US was against" the Asian Infrastructure Investment Bank. "But the US is especially welcome to join the Belt and Road Initiative, with all the advantages the US has."