18 workers killed when overloaded minibus plunges into roadside lake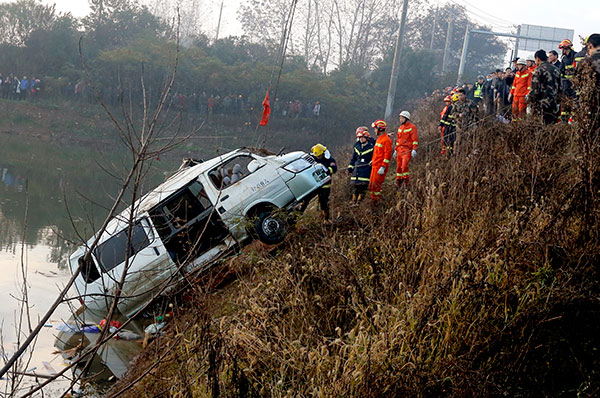 Rescuers retrieve a minibus from a lake in Ezhou, Hubei province on Friday. The vehicle was carrying 19 workers and a driver when it plunged into the water. Only two people survived the accident. Hui Bin / For China Daily
Eighteen people were killed when an overloaded minibus plunged into a roadside lake in Hubei province early on Friday morning, local authorities said.
The minibus was carrying 19 passengers and a driver when the accident occurred near Miaoling, a township in Ezhou, at about 6 am on Friday. Only the driver and one passenger survived the accident.
Ma Yichun, an Ezhou work safety and supervision official, said heavy fog, with visibility of less than 100 meters, may have been a factor in the accident, the Associated Press reported.
The minibus was severely overloaded as it only had a registered seating capacity of nine people, according to Wuhan Evening News.
The two survivors were taken to a hospital for treatment, and police later detained the driver, China Central Television reported.
The son of Zhang Changzhi, 57, one of the victims, said the passengers were all from two nearby villages and worked as outsourced laborers for a company in Wuhan, the provincial capital. Typically, they would wait at prearranged locations for a bus that would have them at their work site by 5:30 am. In the evening, it would return to pick them up.
The workers were mostly in their 60s and 70s.
Rescue workers retrieved the vehicle from the lake, and a work team was set up to investigate the accident, according to an Ezhou news release.