Second-child policy sparks demand for larger homes
Large flats are preferred by young, married homebuyers now in the wake of the second-child policy and amid expectations of a further rise in home prices, industry experts say.
Industry data shows that 545 apartments, each with floor space exceeding 300 square meters, were sold in Beijing in the first eight months in 2016, up 36 percent year-on-year. Their prices were 32 percent higher than the previous year. In the same period, sales of smaller flats with a floor space between 200 sq m and 300 sq m, however, decreased 3 percent year-on-year.
"The shrinking inventory of large houses up for sale in the capital tends to further push up their price," says Guo Yi, marketing director of real estate consultancy Yahao.
The inventory of homes with a floor space of more than 300 sq m declined 16 percent to 1,617 units till late August from that of last year. Around the Fourth Ring Road in Beijing, there are only 670 flats with spacious layout up for sale.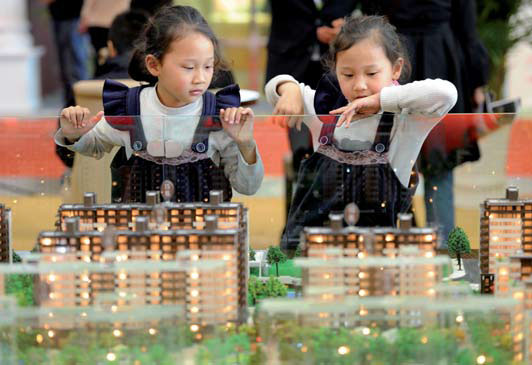 Twin sisters check out a model of a building at a real estate expo in Nanjing. The second-child policy is expected to fuel demand for larger homes. You You / China Daily
"The average price of these units is estimated to exceed 44.77 million yuan ($6.7 million; 6 million euros; 5.5 million pounds), if calculated with the current market price per square meter," Guo says.
Ren Li, general manager of Centaline China, says that homebuyers looking for bigger homes to accommodate a possible second child, are driving demand now. Such families have either purchased a second home or sold off their old apartment to buy a bigger one.
Meanwhile, homebuyers' demand for apartments closer to educational institutions is rising.
According to Wang Fang, deputy general manager of China SCE Property Holdings Limited's Beijing branch, customer demand is high for three-bedroom apartments in the company's project in Xicheng district, well known for its educational resources. In fact, demand far exceeded supply in this niche, though the overall cost of such an apartment has exceeded 20 million yuan.
"Those customers have a very clear demand: a quality home with good educational resources," says Wang.
China started to relax its family planning policy in late 2013. It introduced the second-child policy, allowing certain couples to have two children, if a spouse is a single child of his/her parents. Two years later, the second-child policy became universal.
Women of childbearing age living in Beijing who are eligible for the new policy are forecast to increase to 2.36 million, according to the Beijing Municipal Commission of Health and Family Planning. An online survey showed 30 percent of them, or 710,000, plan to bear a second child.
This is said to have sparked the demand for spacious homes. Statistics from real estate brokerage Centaline China show that the rise in new home prices, particularly those of three-bedroom units, especially in Beijing, was higher after the second-child policy became universal.
The average price of a three-bedroom house rose 30.8 percent after the policy announcement, 9.4 percent higher than that of newly built residential homes.
Contact the writers at huyuanyuan@chinadaily.com.cn