Prosperous new Horinger district in Hohhot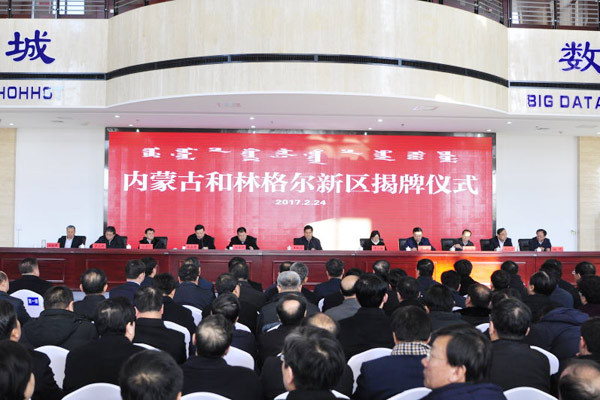 The unveiling ceremony of the Horinger New District is held in Hohhot, Inner Mongolia autonomous region on Feb 24, 2017. [Photo/Provided to China Daily]
The unveiling ceremony of the Horinger New District was held in Hohhot, Inner Mongolia autonomous region on Feb 24.
Li Jiheng, Party secretary of the Inner Mongolia autonomous region, urged the implementation of new measures to promote the new area's development at the ceremony.
"We have to fully recognize the importance of the Horinger New District, and build the area into a beautiful place in Northern China," Li said.
The new district is aimed to be an important cluster for developing industrial integration, and a prosperous ecological zone for the development of low-carbon energy, and will include six banners, counties and districts within its 496 square kilometer area.
Key industrial development areas will be located in the Horinger Economic Development Zone, Sha'erqin Industrial Park and the New Airport Economic Zone, according to a plan released at the unveiling ceremony. According to the overall construction plan for the new district, development endeavors shall be compiled and submitted to the State Council for approval within a year.
In the northern region of the Horinger New District, there will be a new urban area composed of the Jinqiao Development Area and the Baita Area. In the district's south, there will be an industrial cluster comprised of the Togtoh and Qingshuihe industrial parks.
Over the next three years, the overall economic strength of the district should remarkably improve with the active progress made through the construction of the industrial parks, with the total industrial output estimated to reach 160 billion yuan ($23.3 billion) and the number of the permanent residents reaching 700,000.
The released plan also set development goals for the next five and ten years. The total industrial output should increase to 210 billion and 490 billion yuan in the next five and ten years, respectively.
"Horinger will utilize the opportunity of building the China-Mongolia-Russia economic corridor to enhance regional cooperation and undertake more industrial businesses," said Luo Qing, director of the management committee of the Horinger New District.
"The new district will open more to the outside world and build many economic platforms, such as a permanent site for the China-Mongolia Expo, a pilot free trade zone and a comprehensive bonded zone," Luo said.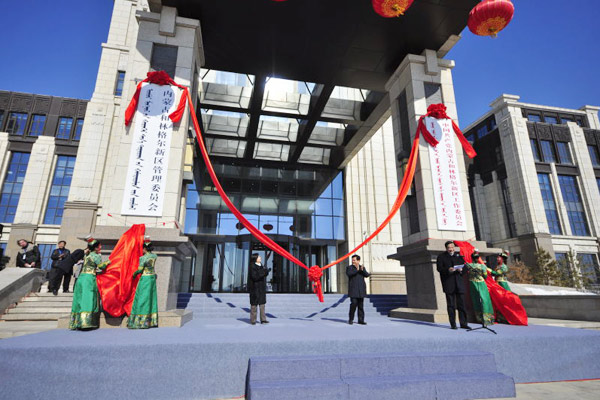 The unveiling ceremony of the Horinger New District is held in Hohhot, Inner Mongolia autonomous region on Feb 24. [Photo/Provided to China Daily]