Travel card provides convenience for local commuters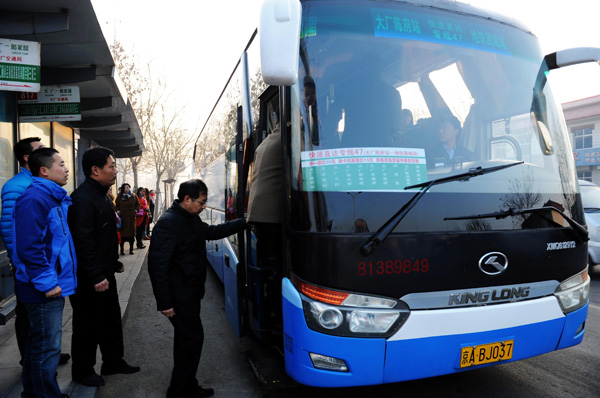 Passengers get on a bus linking Dachang Hui autonomous county in Hebei province with Beijing in February.[Photo/Xinhua]
A new travel card will enable passengers to use all metro systems throughout Beijing, Tianjin and Hebei province by the end of this year.
Currently, one type of travel card sold in Tianjin and Hebei can be used on buses in Beijing, but not on the capital's metro system.
The latest move is part of efforts to promote the integrated development of the Beijing-Tianjin-Hebei region.
"In the past three years, the region has made progress in many areas, including road construction, transportation services, energy saving and reducing emissions," said Rong Jun, a spokesman for the Beijing Municipal Commission of Transport.
Since 2014, a total of 39 bus routes linking Beijing have been opened in Hebei's Yanjiao, Zhuozhou and Langfang, with the monthly passenger count hitting a record 11 million, according to the commission.
At the end of 2014, a new national highway was opened, reducing the driving time between Beijing and Hebei's Fengning county to two hours from the previous four and a half hours.
By 2015, five cities in Hebei - Langfang, Cangzhou, Shijiazhuang, Baoding and Tangshan - had become part of a "one-hour traffic circle" connecting them to the capital.
Also in 2015, three bullet train lines were opened between Beijing and Yanjiao, benefiting thousands of commuters.
Rong said a priority for Beijing, Tianjin and Hebei this year will be to jointly tackle traffic congestion, which is a significant concern in Yanjiao.
Yanjiao, about 35 kilometers east of the capital, is home to more than 500,000 people, with most of them working in Beijing. Many of them choose to live in the town because it is close to the capital and has much lower housing prices. However, this has led to notorious rush-hour traffic congestion on the road linking the two.
Xu Fang, 33, lives in Yanjiao and used to work in Beijing, spending about one and a half hours every day commuting.
"My trip to work was a disaster. I had to fight my way onto a bus and transfer onto the metro to reach my office," Xu said, adding that she decided to quit her job in the capital to find work in the town where she lives.
However, with the opening of the bullet train lines and improved public transportation, Xu said she is considering returning to Beijing to work.
Recently released statistics showed that the aggregate GDP of Beijing, Tianjin and Hebei last year - 7.46 trillion yuan ($1.1 trillion) - accounted for more than 10 percent of the country's total.