Church group offers faith, hope and charity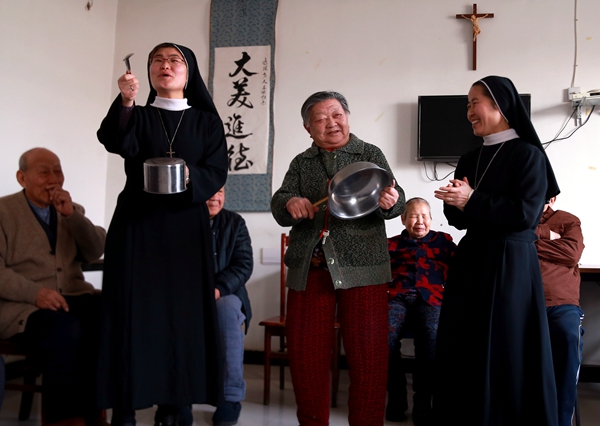 Seniors participate in a group activity at the Jinde Old Age Home, a charitable institution in Shijiazhuang, Hebei province.[ZOU HONG/CHINA DAILY]
Organization that receives millions of yuan in donations every year looks to become more professional to provide greater assistance to people in need. Xu Wei reports from Shijiazhuang.
Father Li Rongpin is a busy man. In addition to his pastoral duties, such as giving Mass several times a week and attending to the needs of his parishioners, the Roman Catholic priest has another demanding job; running a charitable foundation that received registered donations of 17 million yuan ($2.5 million) last year.
The 43-year-old takes phone calls, reviews individual charity programs and gives instructions to colleagues, but he is often frustrated by his lack of experience.
"These are things I never expected to do. When I decided to devote myself to the priesthood, all that my mother expected was that I would say Mass at the village church," he said. "As a priest, I was trained to provide services in the spiritual realm. I know almost nothing about financial management, charity work or administration."
Li is the director of Jinde Charities, a Catholic organization and foundation registered in Shijiazhuang, the capital of Hebei province, a traditional Catholic stronghold in North China. Followers in the province account for about 40 percent of China's estimated 6 million Catholics, according to statistics from the Hebei Department of Ethnic and Religious Affairs.
Jinde is just one of many charities run by Catholic groups. Several dioceses, including Xi'an in Shaanxi province and the diocese of Liaoning province, run charitable organizations, including nursing homes, orphanages and groups devoted to helping people with AIDS.
The groups have one thing in common-their work is being hampered by a lack of financial management experience.
Range of activities
The Jinde foundation was approved by the authorities in 1998. Managed by about 40 priests, nuns and lay workers, it is devoted to a range of activities, including disaster relief, providing emergency relief to individual families, caring for seniors and helping people with AIDS in rural areas.
"When required, we can mobilize priests and followers in different dioceses. If we know a priest is ministering in a certain area, we can usually find hundreds or even thousands of followers who will provide help," said Li, who has a master's in biblical studies from the Catholic Theological Union at Chicago.
He acknowledged that the lack of management skills poses a challenge to the priests and nuns, who have no experience of running a foundation, especially one that handles such a large number of donations.
Management of human resources is also difficult, because Li's status as a priest means he is expected to be more forgiving than a regular employer. He is attempting to draft a code of conduct for employees to improve the foundation's management, but is finding it difficult: "This is why we need a modern management system. We need rules to reward those who obey the regulations and punish those who violate them."
Official encouragement
The central government actively encourages the participation of religious groups in charity work and the establishment of charitable organizations, including foundations, which are allowed to receive donations, according to a guideline issued in 2012 by six central government departments, including the State Administration of Religious Affairs and the Ministry of Finance.
That stance has been reiterated by Wang Zuoan, head of the State Administration of Religious Affairs. In an article published by Study Times, Wang said the government will continue to support faith-based charities.
Despite the official endorsement, the foundation's religious background can be a disadvantage when the group attempts to publicize its work, especially through the media.
"The issue suddenly becomes sensitive for many people when they learn about our religious background. Many outlets shy away from covering our work, and some have even severed ties with us," said Father John Zhang Shijiang, Jinde Charities' founder.