Liftoff for heavy-duty gas turbines
Breakthrough made for use in aircraft carriers
China has made major breakthroughs in the core design and manufacturing technology of heavy-duty gas turbines that can be installed in aircraft carriers, according to a research institute at Tsinghua University.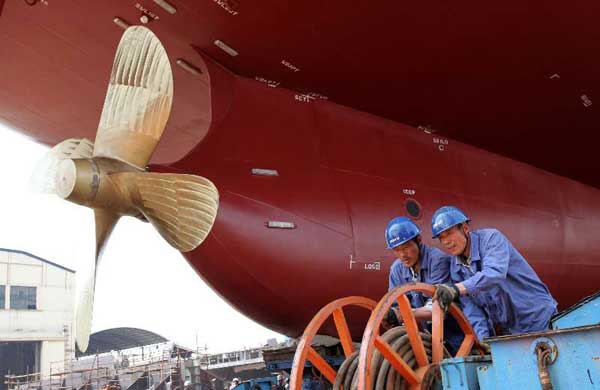 Workers prepare for the sailing a newly built bulk ship at a shipyard in Nanjing, Jiangsu province. Provided to china daily 
The domestically made CGT-60F, an F-class heavy-duty gas turbine, jointly manufactured by the Gas Turbine Research Center of Tsinghua University and a number of companies including Shanghai Electric Group Co Ltd and Dongfang Electric Corp, has passed high-temperature cooling experiment tests at the Beijing-based China Gas Turbine Research Establishment.
The heavy-duty gas turbine can tolerate temperatures of up to 1,400 C.
Jiang Hongde, one of the project leaders and a member of the Chinese Academy of Engineering, said the test results, including the cooling effectiveness and temperature distribution, were all better than expected.
All of the components of this high-end gas turbine are made in China. The prototype was made by Shanghai Turbine Co Ltd, with full intellectual property rights.
China currently can only develop heavy-duty gas turbines based on Ukrainian technology, as Western countries, including the United States and France, do not allow their manufacturers to export such products to China due to national security issues.
Aviation Industry Corporation of China has adopted the Ukraine-made R0110 heavy-duty gas turbine with 110 megawatts of heating power. However, this type of gas turbine can only be applied in electric power generation and cannot be used in ships.
Dong Liwan, a shipbuilding professor at Shanghai Maritime University, said that the work to adapt it for naval use still has a long way to go.
He said whether steam or gas turbines are used in China's first domestically manufactured aircraft carrier will depend on the nation's development of high-efficiency gas turbines.
Breakthroughs on materials and technologies can build a solid foundation for domestically made heavy-duty gas turbines used in ships.
"We are eager to catch up with established rivals in the field in the US and Europe, so China will encourage crowd innovation, crowdfunding and other innovative business techniques to further support the Made in China 2025 strategy, especially in its mature and fast-growing sectors," said Sun Fuquan, a researcher specializing in military-related products at the Chinese Academy of Science and Technology for Development.
Sun said China's fast-growing 4G telecom networks and the Made in China 2025 strategy will lead to further improvements in high-end products, productivity and resource efficiency this year.
Cheng Yu contributed to this story.