Record number of Chinese visited Australia last year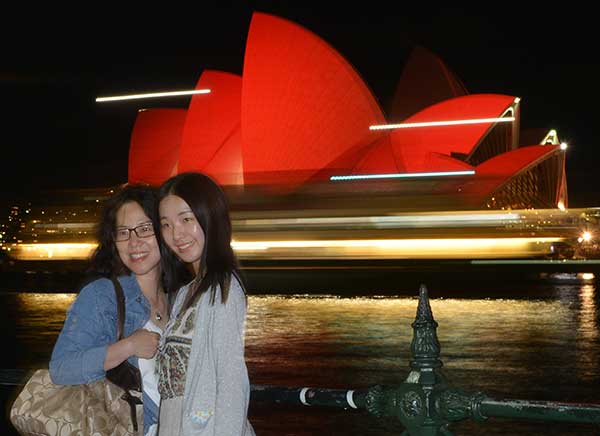 Chinese tourists take photos in front of the Sydney Opera House, which is lit up red to welcome in the Lunar New Year in Sydney in February last year.Peter Parks / AFP
A record 1.2 million Chinese tourists visited Australia in 2016, according to statistics released by the Australian Bureau of Statistics on Monday. Jessica Noack from the ABS Migration Analysis and Reporting Team said there had been "phenomenal growth" in the number of visitor arrivals from China over the past 40 years, explaining that in 1976, just 500 Chinese tourists visited Australia.
"China has almost caught up with New Zealand as the most popular source country for visitors to Australia," Noack said in a statement released on Monday.
"After China, visitors from Vietnam had the highest growth rate over the past 40 years, growing from 100 in 1976 to 70,500 in 2016. United Arab Emirates had the next highest growth rate, increasing from 100 in 1976 to 40,900 in 2016, while visitors from South Korea grew from 1,200 in 1976 to 286,000 in 2016."
Noack said that while New Zealand remained the source nation with the highest number of visitor arrivals to Australia in 2016, with more than 1.3 million, the ABS expects China to take over first place in the not-too-distant future.
"In 2016, New Zealand was still our top source country. After New Zealand and China, the most popular sources of travelers in 2016 were the United States (714,700), the United Kingdom (709,600) and Singapore (443,600)," Noack said.
According to the ABS, 38 percent of all short-term trips were made to New South Wales, where Sydney is the state capital, followed by Victoria (Melbourne) with 25 percent, and Queensland (with tourist towns Brisbane, Gold Coats and Cairns) accounting for 22 percent.