Steelmakers suspected in smog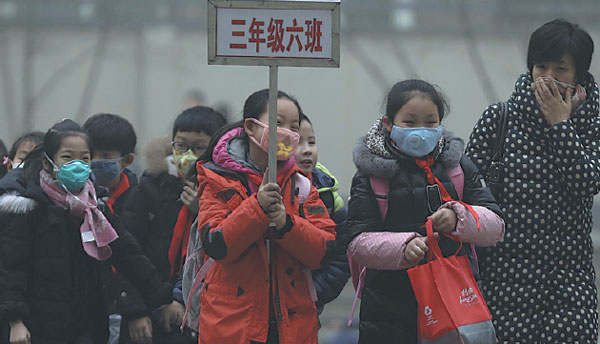 Primary school students wearing masks leave a school in Shijiazhuang, Hebei province, on Tuesday. The city, which had the worst air quality in November among 74 major cities monitored, ordered classes suspended on Wednesday. Zhu Xingxin / China Daily
Leading researchers on air pollution have identified the massive amounts of discharged pollutants, especially from industrial production, as the root cause of the severe winter smog in the Beijing-Tianjin-Hebei region.
The situation has likely been exacerbated by the rising price of steel, which resulted in plants increasing production to net higher profits, according to environmentalists.
The smog that has blanketed northern and central areas since Friday has disrupted airports and expressways and led to school closures. In response, red alerts were issued by 24 cities to limit emissions from industrial production, with more than 1,200 factories in Beijing alone told to close or reduce output.
However, much of the damage may already have been done. A Greenpeace study released over the weekend found that a 50 percent rise in the steel price in the second half of the year saw a rapid increase in production.
The trend could be seen "especially in southern cities of Hebei province and northern parts of Henan province", said Dong Liansai, the environmental group's head of air pollution research, who added that a similar trend was also seen at cement factories.
No regional data was available, but according to the National Bureau of Statistics, steel production nationwide increased by 1.7 percent year-on-year in November.
According to Wang Guoqing, director of the Lange Steel Information Center, an independent consultancy in Beijing, the price hike meant larger profits for Chinese steel companies, with profits growing by 310 percent in the first 10 months compared with the same period last year.
She said production restrictions introduced by governments, such as the red alerts, and increasing costs of raw materials and logistics had driven the steel price higher.
Both Dong and Wang said the increase in emissions from the boost in production was a likely contributor to the severe smog in the Beijing-Tianjin-Hebei region.
Although the situation was improving, air pollution has been a frequent issue during the period when northern regions fire up central heating systems, generally from Nov 15 to March 15.
In addition to industrial emissions, researchers and government officials agree that the heavy reliance on coal consumption in northern regions is another major reason for the frequent air pollution.
Meteorological conditions also play a part. A lack of wind, for example, means the pollution lingers.
According to the Ministry of Environmental Protection, authorities in the Beijing-Tianjin-Hebei region have taken joint steps to reduce air pollution and bring more blue sky days. However, efforts to punish companies that violate restrictions on production are still being refined.
Ma Yong, an environmental researcher with the Supreme People's Court Law Center, said, "To cut emissions, there should be tougher punishments to deter companies violating the restrictions, making fines higher than their potential profits."
zhengjinran@chinadaily.com.cn