Govt: Smog levels lower than forecast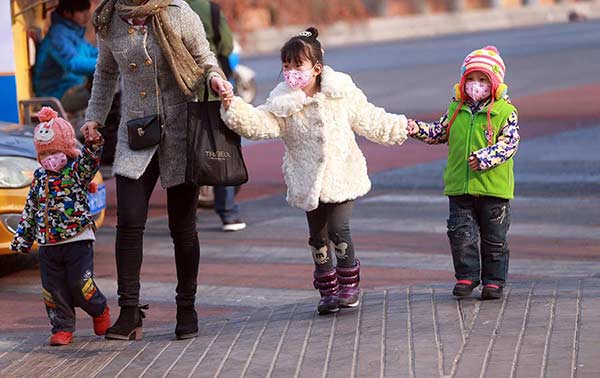 A woman and three children make their way through heavy smog in Dongzhimen, Beijing, on Sunday. [Photo by Zou Hong/China Daily]
The severe smog blanketing northern regions, which covered more than 750,000 square kilometers by Saturday, worsened in several cities on Sunday, although officials have insisted that tough measures to reduce the pollution have been effective.
Air quality index readings in Beijing, Tianjin and cities in Hebei, Shandong, Shanxi and Henan provinces began to rise on Friday.
The worst levels over the weekend were recorded in Shijiazhuang, the capital of Hebei, where five monitoring stations recorded an AQI of 500, the most hazardous level, as of 4 pm on Sunday.
Due to the weather conditions, which have made it hard for accumulated pollutants to disperse, the smog is forecast to ease off slightly before reaching another peak on Wednesday, according to the Ministry of Environmental Protection.
Twenty-three cities on Saturday issued red alerts. The measure comes with strict restrictions on industrial production and vehicle use to cut emissions, and calls for the suspension of work on construction sites.
Sinopec Beijing Yanshan Co, for example, a major discharger of pollutants, has been ordered to reduce production by at least 30 percent.
The central and provincial authorities have sent teams to conduct field inspections and oversee the implementation of air quality controls, which the ministry said has helped to cut emissions and slow down the accumulation of pollutants.
"Preliminary estimates show the restrictions have helped Beijing to reduce pollutant emissions by about 33 percent and ensure that the concentration of PM2.5 remains at 20 percent (lower than forecast)," Fang Li, head of the capital's environmental protection bureau, said.
The ministry said one-third of the 23 cities that issued red alerts have recorded smog levels below their expectations and added that the pollution peak arrived later than forecast.
Inspection teams have reported violations, such as companies illegally discharging excessive levels of pollutants. According to previous warnings, offenders face fines and temporary or permanent suspension, while severe cases could result in the detention of senior employees.
Liang Shuang contributed to this story.
zhengjinran@chinadaily.com.cn