Twist on tradition cures rural woes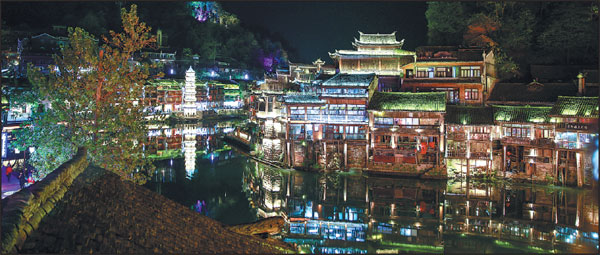 A night view of Fenghuang, a tourist hot spot in Hunan province that is dominated by the culture of the Miao ethnic group.Photos By Yuan Qingpan / China Daily
A fresh approach to a local delicacy dish has resulted in rising living standards for residents of a remote Miao village. Cao Yin and Feng Zhiwei report from Jinsha in the Xiangxi Tujia and Miao autonomous prefecture, Hunan province.
Editor's Note: This is the fifth in a series of special reports China Daily will publish in the coming weeks focusing on efforts to eradicate poverty and raise living standards in the rural areas, especially among members of ethnic groups.
As a child, Liao Yanfei's greatest pleasure was eating meat once a month. Now, as the owner of a successful cured-meat factory, the 34-year-old is no longer as keen.
"When I was a kid, I loved eating meat, but my family was unable to afford it very often. My life improved greatly after I set up my business, but the desire to eat meat has waned because I package and sell meat products every day," he said.
In addition to his business interests, Liao, a member of the Miao ethnic group, is head of Jinsha village, Fenghuang county, in the Xiangxi Tujia and Miao autonomous prefecture, Hunan province, Central China.
His father died when Liao was 4, so he lived with his mother and elder brother. Without their main breadwinner, they were the poorest people in the village, living in a shabby stone house on virtually no income.
"My mom once picked up a piece of meat in the street. She came home, cooked it and called us to eat. I was so excited to see the meat, but when I took some she suddenly changed her mind and stopped me eating it. She said it might have been rotting and had been thrown into the road to poison stray dogs," Liao recalled, adding that the experience left a deep impression on him.
The family's impoverished status meant that his schooldays were not happy.
"I was afraid to talk with the other kids because I lacked confidence," he said. "But I was eager to do everything well, so I made the decision to become the outstanding person in my village."
In 1999, Liao dropped out of school, and a year later he traveled to South China's Guangdong province in search of work. At first, he worked in the electronics processing industry, but later became a waiter.
He wasn't the only villager to head to the city in an attempt to break out of the poverty trap even in 2014, Jinsha was home to 84 households that earned less than 2,800 yuan ($400) a year, which meant they were officially designated as poverty stricken.
Despite his new, higher income, Liao still wasn't satisfied. "I was earning 3,000 yuan a month, but that didn't signal any real improvement in my life, plus my mother was elderly and I had to leave her on her own," he said. "So, after working 'on the outside' for about six years, I decided to return home and start my own business."
The move not only improved Liao's life, but also those of many other villagers.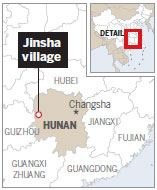 Realization
Although he was determined to start his own business, Liao didn't know what he wanted to do until he realized that every family in Jinsha produced cured meat, a dish traditionally eaten by Miao people during the last month of the lunar calendar.
The curing process is distinct - the meat is salted and then slowly baked to reduce moisture.
Liao decided to make the dish, but with a twist. "I wanted to produce it as a kind of packaged snack," he said. "The idea hit me when I sold packaged betel nuts in a store in the county. I found that packaged food was convenient because I could eat it anytime, anyplace. So I thought, 'Why don't I present our cured meat in the same way?' I always wanted my own business, and that was the best opportunity."
Starting the business proved problematic, though: "I didn't know how to obtain an operating license and was unaware of the State hygiene and sanitary standards."
Lacking business experience and capital, Liao and his wife, Wang Yinhua, were lucky to meet Tian Yunguang, then-director of the county's quality supervision bureau, who encouraged the young couple to concentrate on their business and escape the poverty trap.
"Tian helped me a lot by explaining how things worked and the government policies that applied to the food business," Liao said. "With his help, I got a business license and ensured that hygiene was a top priority."
One day, while selling their home-cured meat in Fenghuang, a tourism hot spot, a visiting businessman expressed an interest in the product.
"Luckily, he was willing to loan us 100,000 yuan to expand our business," Liao said. That loan, plus some savings donated by Wang's family, saw the couple officially open their factory in 2010.
A better Life
"Producing cured meat in packets was an experiment, and I never thought it would be as successful as it has been. Now, my factory can brings us about 8 million yuan a year," Liao said
A sales assistant at a food store in the county confirmed the soaring sales. "In the past two years, packaged meat snacks have become very popular. Almost every day, the tourists come to us to buy two or three packets each," she said.
Even better, Liao's factory also provides work for more than 30 villagers, helping them to climb out of poverty too.
Liu Xiaodong, an official at the civil affairs department in Fenghuang, praised Liao's initiative, saying people should not rely solely on government subsidies to improve their circumstances: "Instead, real poverty alleviation is finding a way to become richer and free our minds from poverty."
A guide to wealth
As a result of the factory's growing revenue and importance, Liao was elected head of Jinsha village. "We wanted him to show us how to become rich," said villager Liu Menkao, whose son works at the factory.
"Liao has a good business brain. He is young and finds it easy to learn new things. The economic burden on my family has been alleviated now my son earns about 2,000 yuan a month in Liao's factory."
Ma Xiaoying, 46, has worked at the factory since 2013. "In the past, our income depended on whether our land was fruitful. We were at the mercy of nature, but now we rely on our own labor," she said.
"I can earn more than 1,000 yuan every month. Added to my husband's income from building houses, we can feed our two children and pay for their education, while the short distance between the factory and my home is convenient because it allows me to look after my 80-year-old mother."
Liu said Liao's efforts have benefitted every resident of Jinsha. Last year, 20 house-holds were lifted out of poverty, and by June, the entire village was living above the national poverty line.
One of eight counties in the prefecture, Fenghuang had a population of about 420,000 in 2012. Last year, just 23 percent of the population was still classified as officially poor, he added.
"Under a series of poverty-relief policies and thanks to Liao's factory a further 10 percent of the population has escaped the poverty trap," Liu said. He estimated that the prefecture will achieve the government's goal of eradicating poverty by 2020 by the end of next year.
Liao is keen to see his fellow villagers succeed on their own terms. "One man's poverty alleviation doesn't equate to real poverty relief - our lives will only be turned around for the better if all of us become rich," he said.
Contact the writers at caoyin@chinadaily.com.cn