Residents brace for thick smog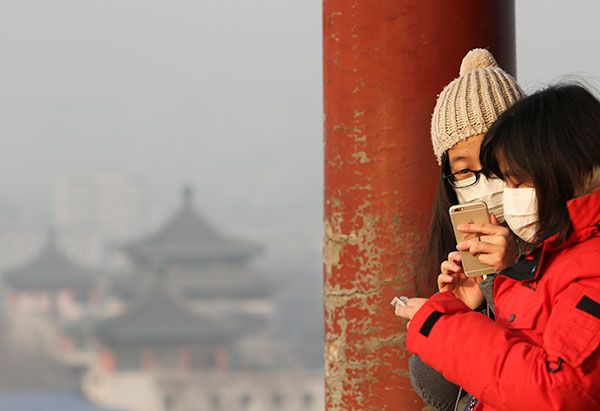 Tourists visit Jingshan Park in central Beijing on Friday afternoon as smog started to shroud the city. SUN JUN/CHINA DAILY
"Smog is coming!" That was what Yan Jie and her friends mostly talked about on Friday afternoon on social media.
"I saw a picture showing smog rolling in from the south to replace the blue sky in the north," said the 30-year-old Beijing resident.
Most of Yan's friends live in Beijing and are enthusiastic fans of the popular TV series Game of Thrones.
"I feel horrified at the thought of choking air, so I borrowed the saying 'Winter is coming' from the TV series to describe how I feel about smog," she said.
Yan added that she would stay at home with her baby for the weekend and turn on air purifiers.
Satellite pictures updated hourly by the Beijing Environmental Monitoring Center showed thick smog gradually moving in from south to north.
Many Beijing residents shared similar feelings as they discussed the approaching thick layer of haze on Friday on social media like WeChat and micro blogs.
"In the morning, I was confused as to why the government had issued a red alert, since the sky was still blue," said Zhan Minghui, 33, who works for an internet company.
"Now I think the early warning is necessary, and I hope it will work."
The Beijing government announced the red alert, the highest emergency response level against air pollution, on Thursday night. The alert, the first of this year, took effect at 8 pm on Friday and was expected to be lifted on Wednesday, when air quality is forecast to improve.
With the red alert in place, private car owners are allowed to use the roads only on alternative days based on odd or even license plate numbers.
The city's education authority also ordered kindergartens, primary schools and private training centers to suspend classes. Middle schools can decide for themselves whether to cancel classes.
Restrictions are also imposed on the city's industrial production activities.
Twenty-one other cities in northern and central parts of the country also activated red alerts for smog.
On Friday afternoon, parts of Hebei, Shandong and Henan provinces were shrouded in thick smog, according to the National Meteorological Center.
The smog was forecast to become thicker and reach peak levels over the weekend in Beijing, Tianjin and many cities in Hebei province.
Visibility is expected to be less than 500 meters in some areas, the center said.