'Beef broth' may be ground water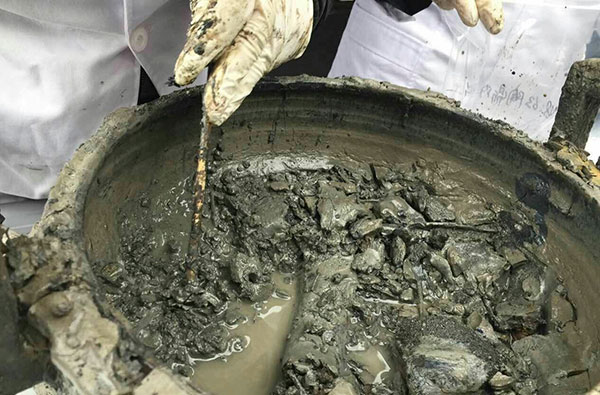 "Beef broth" that was found by archaeologists in an ancient tomb in Xinyang, Henan province. Provided To Chiina Daily
Suspicious "beef broth" was found in several ancient cooking vessels unearthed in a tomb during a recent excavation in Central China's Henan province.
Archaeologists identified bones as the forelimbs of cattle, and guessed that the water in the vessels may have been beef broth.
After the Henan Provincial Institute of Cultural Relics and Archaeology released the news online with photos, some netizens jokingly said that the dish was 1,000-year-old beef broth, and predicted that the tomb owner was a foodie.
According to Beijing Youth Daily, Wu Zhijiang, who is in charge of the excavation, claimed that the tomb dated back to Chu Kingdom in the Warring States Period (475-221 BC) and clarified that the "beef broth" was actually underground water seepage.
"The water in the vessel looks like broth, but it is actually ground water. We found that there is water seepage in the tomb pit, as the water level is quite high, so it is actually flooded," Wu said.
Wu said that such a vessel in the Chu tombs was usually used for sacrifices, and beef, sheep or pig was always put inside the tomb as offerings. It is still not clear whether the beef bones were placed in the vessel raw or cooked.
Wu said that after the tomb was robbed at the beginning of this year, the institute conducted a rescue excavation. According to preliminary findings, the tomb owner was a noble.