China combats heavy smog with red alerts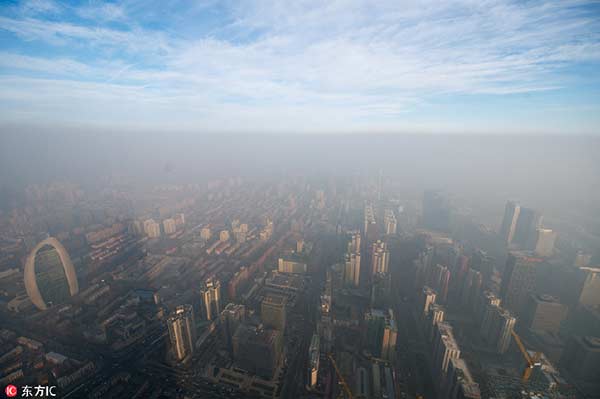 The contrast is clear between blue skies upper above and the heavy pollution blanketing buildings in Beijing on Dec 16. [Photo/IC]
BEIJING -- The sky was gray across much of north China on Saturday as at least 24 cities, including Beijing and Tianjin, have activated red alerts to address the pollution.
The measures include car restrictions on roads, suspension of construction and classes for kindergartens and primary schools as well as reduced emissions for factories.
Beijing, Tianjin and the provinces of Hebei, Henan, Shanxi and Shandong are forecast to experience the most severe smog since autumn.
Beijing activated its first red alert for smog this winter as the air began to turn hazy on Friday, ending several days of blue sky.
Kindergartens and primary schools have been ordered to suspend classes from Monday to Wednesday in Beijing due to the persistent heavy smog. All road construction and maintenance sites have been ordered to stop work.
At 1 pm Saturday, the PM2.5 density exceeded 200 in the downtown areas of the capital, indicating heavily polluted air, according to the Beijing Municipal Environmental Monitoring Center.
Beijing's environmental and housing authorities have strengthened inspection of vehicles, construction sites and factories, punishing those that fail to meet the requirements under the red alert.
The air quality index (AQI) readings at some sites in Tianjin, a northern port city neighboring Beijing, exceeded 300 on Saturday morning, indicating serious air pollution.
The PM2.5 readings were at high levels in many other cities in north China on Saturday. The current bout of smog is forecast to last until Thursday.
AN INCONVENIENT SMOG

The heavy smog has led many to stay at home over the weekend.
"We canceled a planned weekend trip to Zhangjiakou in Hebei Province to ski with friends due to car restrictions," said Wang Di, a resident who lives in Beijing.
He said he plans to buy an electric car as soon as possible to avoid delaying plans on smoggy days.
"I would rather stay at home as the air will continue to be bad in the coming days," said a retired woman in Tianjin. She did not do her outdoor morning exercises and even bought fruits and vegetables to last until next week after she learned about the red alert.
Another Tianjin citizen, surnamed Wang, said he has had to cancel his plans to play football during the weekend due to the pollution.