Pollution among concerns addressed
Ministries and State Council departments have responded to a number of public and media concerns over the past week. One that attracted the most attention is the ongoing heavy pollution over Beijing, Tianjin, Hebei and nearby provinces, for which Beijing and several other cities have already issued red alerts.
The Ministry of Environmental Protection said their monitoring system had forecast heavy pollution weeks ago and had already sent official warnings to the governments of the municipalities and provinces affected. The ministry shared information with the provincial-level governments, and required them to issue alerts in time.
The ministry also said they had sent 13 inspection teams to the cities affected, to check whether they have taken the necessary measures to fight heavy pollution, such as limiting vehicles and curbing enterprises producing excessive emissions.
They said measures to ensure clean air need the participation of everyone in society and called for the public to take action in maintaining the air quality.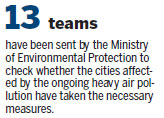 The Ministry of Education introduced to journalists their recently announced K12 education standards for disabled children. It is the first standard system of its kind for pupils with disabilities, a spokesperson said on Jan 13.
The standards cover 42 subjects, of which 18 are for the visually impaired, 14 are for those with impaired hearing, and 10 are for pupils with learning difficulties.
They include the philosophies, objectives and proposals for the courses these pupils should receive.
The schools for these children should consider both the K12 education standards and their special needs, the spokesperson said, adding that the domestic philosophy of education for disabled children has improved with time.
Some drivers place an ETC card at the corner of their windshield, which can pay for highway tolls automatically upon being scanned by the camera at highway entrances. However, recent reports say that some illegal gangs stole money from the cards by scanning them on parked cars with portable POS machines.
Union Pay, a payment alliance formed by most major domestic banks, responded that the scam does not apply to all ETC cards, as only those linked with quick pass banking accounts are vulnerable, because such accounts can pay without the card holder's signature.
Union Pay advised ETC card holders not to link their cards with quick pass banking accounts, and to remove any linked cards from their vehicles when parking.
The China Food and Drug Administration explained its recently announced policy of strengthening supervision over food safety in kindergartens and primary and secondary schools.
It requires its agencies at all levels nationwide to inspect the canteens of primary and secondary schools and kindergartens, and prohibit companies without approval from further running the canteens.
zhangzhouxiang@chinadaily.com.cn