Reforms aim for more sustainable, greener farming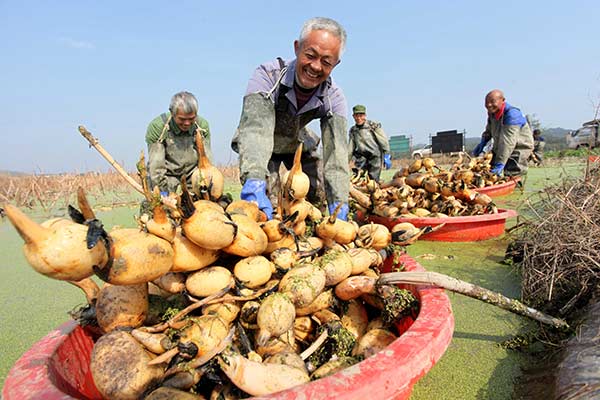 Farmers harvest lotus roots in Wenxi, Jiangxi province, last month. The village has a lotus root farm covering some 33 hectares. The government of Dongxiang county, where the village is located, helped start the farm, a poverty-alleviation project meant to increase local incomes. [Photo/China Daily]
China will prioritize supply-side structural reform in the agricultural sector to improve the quality of farm produce and boost the development of green agricultural practices, according to a statement released after a high-level meeting.
The country will seek to transform its agricultural sector from overemphasis on meeting quantitative demands and overreliance on consumption of resources such as pesticides and fertilizers to a green, ecological and sustainable method of development next year, the statement said.
The annual conference was held in Beijing on Monday and Tuesday to review the country's rural and agricultural work in 2016 and map out plans for 2017 and the following years.
The country is still facing a huge combined grain reserve, estimated to be the largest in the world. The country is sitting on a hoard of corn estimated to be as big as 240 million metric tons, Reuters reported.
China's grain output dropped by 0.8 percent year-on-year in 2016, ending 12 years of increases.
However, the statement said the advancement of rural supply-side reform must be conducted on the premise of ensuring the country's grain security.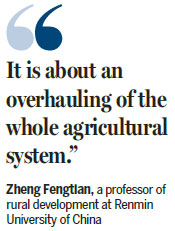 In addition to green farming practices and sustainable development, water conservation in agriculture will also be prioritized.
Han Changfu, minister of agriculture, said that the country will seek to reduce its corn acreage by 666,000 hectares next year. China has already reduced corn acreage by 2 million hectares.
"The key to structural reform is to follow market demand, and produce the agricultural products that are good for sale," he said.
The country will also seek to improve the rate of output for its farmland, labor productivity for farmers and level of resources utilization for the agricultural sector, the statement said.
However, the statement also said there are three bottom lines - no decline in overall grain production capacity, no change to the income growth trend for farmers, and no problems in rural stability.
Zheng Fengtian, a professor of rural development at Renmin University of China, said despite the country's huge grain stockpile, there is still strong demand for high-quality and green agricultural products in China.
"It is about an overhauling of the whole agricultural system," he said.
He added that boosting competitiveness and efficiency in the sector can also solve the problem of the loss of labor in rural areas amid the country's urbanization drive.
xuwei@chinadaily.com.cn