First-grader's composition circulates online and moves courier parents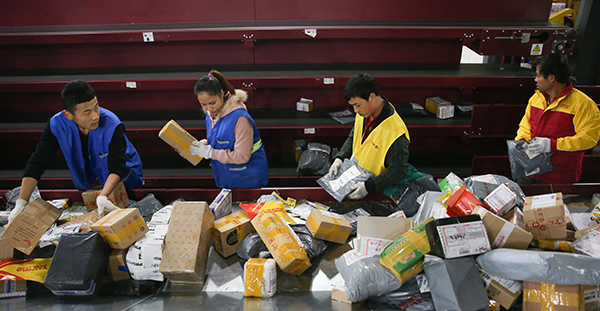 Workers sort out packages at a sorting center in Shanghai on Nov 11, 2015. [Photo/Xinhua]
"My father is a courier...He seldom stays at home...Every morning, when I wake up, he has gone to work...I expect weekends to come, when my father have time to play with me...My father is the greatest man in my mind, because he can bring joy to others."
A composition, My father is a courier, written by a first-grade pupil, is gaining popularity on WeChat, a popular social media platform. Many couriers said they read the composition with tears in their eyes.
The author, Yu Zixuan, is a 6-year-old student at Jiamusi Friendship primary school in Northeast China's Heilongjiang province. His father and mother both work at a postal sorting center in Jiamusi city.
Yu Tao, father of Yu Zixuan, said that Yu Zixuan wrote the composition because his company solicited articles among couriers' family members.
"The whole article was his original idea. I taught him how to write when he encountered some characters that he did not recognize," Yu Tao said, "When I watched him writing the article, tears welled in my eyes."
Yu Tao and his wife usually leave home for work at 3 am and come back home at around 9 pm, when Yu Zixuan has already fallen asleep. They have two days off a month, which is precious time the whole family can spend together. "In the busiest period, he is unable to see us for a month", said Su Yulan, Yu Tao's mother.
Su thinks the article reflects her child's true feeling. "He has strong attachment to his father. If he did not see his father a couple of days, he will ask to be woken up at 3 am to see us before we leave home."
In his father's eyes, Yu Zixuan is a polite and warm-hearted boy. "If I come back home early sometimes, he will welcome me at the door and help me put my coat and shoes away at the right place," Yu Tao said.
"Once I looked a bit of tired when coming home, the kid held my legs and said, 'Dad, you work so hard for me, I will study hard to thank you'," Yu Tao said. "Hearing his words, I determined to try my best to raise him well."
Sun Hongjie, the teacher in charge of Yu Zixuan's class, was not surprised at all about the boy's instant fame. "I believe the article is from his hand. He has a excellent academic performance and has clear logic in writing."