Sharing economy on the wheels of bicycles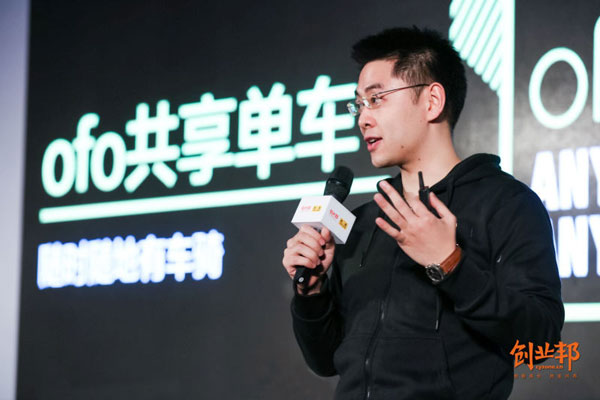 Zhang Yanqi, cofounder of bike sharing startup ofo, delivers a speech at the Chuangyebang 100 Future Leaders Summit in Beijing on Thursday. [Photo provided to chinadaily.com.cn]
"Sharing economy is not in the future but is happening now. It is not only happening in the developed countries but also is reshaping developing countries such as China," said Zhang Yanqi, cofounder of ofo, a Beijing-based bike-sharing startup, at the sideline of Chuangyebang 100 Future Leaders Summit on Thursday.
From September 2015, when ofo delivered its first batch of yellow bicycles to university campuses to October 2016, when it delivered the first bicycle to larger communities in cities, the bike-sharing has become full-fledged part of sharing economy in China.
"In the past, people bought houses or cars to make them their own property. But this concept of possession will change to sharing. It is very efficient from economic perspective," he said.
Ofo is a platform that connects bicycle users. It encourages people to share their own bicycles to exchange the right of using every bicycle on the platform free of charge. Those who do not have a bicycle to share should pay to use them.
Today, it connects 217,365 bicycles collected from common people or bicycle producers with more than 3 million registered users from 200 university campuses in 22 cities across China or communities in first-tier cities.
"We will go to more cites," said Zhang Yanqi. "Ofo aims to connect all bicycles in the world."
Unlike ofo, another ride-sharing platform Mobike produces special-designed bicycles for citizens to share. The original purpose for Mobike to share bikes is to save energy, space and time, said cofounder Hu Weiwei.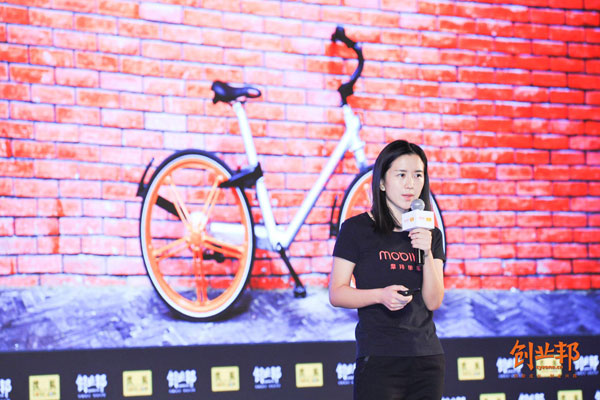 Hu Weiwei, cofounder of bike sharing startup Mobike, delivers a speech at the Chuangyebang 100 Future Leaders Summit in Beijing on Thursday. [Photo provided to chinadaily.com.cn]
Official data show that the commute coverage is less than 5 kilometers in 39 percent of car driving in Beijing in 2014. Five kilometers is a common distance for bicycle riding and walking.
"When everyone has a car, 90 percent of the time cars are just parked, and rest of the time is spent in the middle of the road in traffic jam or wasted in looking for a space to park," said Hu, adding that a car's carbon emission is 18 times than that of a bicycle and needs 10 times more parking area.
Bicycles makes traveling more efficient, and ride-sharing strengthens it. Hu showed that Mobikes are used 24 hours a day in Shenzhen, South China's Guangdong province, with a video during her speech at the summit.
Hu said she was surprised about the around-the-clock use at first, until a Shenzhen Mobike user told her the reason. "Some workers, for instance, cleaners, get off or go to work early morning when public transport isn't operating. In the past, they may use their own bicycles, and now they use Mobike," she said.
Sharing bicycles benefits all people living in the city. "Fifty-two percent of users are post-80s and nearly thirty percent post-90s. Also, there are foreigners from 110 countries registered on our platform," said Hu.
Many people asked about the risk of bicycles being stolen. "A good system will breed goodwill," said Hu. "If everyone can get a bicycle anywhere anytime, no one will want to steal it."
Authorities are backing these innovators. In December of last year, President Xi Jinping said that the government will support the sharing economy and internet-empowered innovations.
"In less than one month of Mobike's launch in Guangzhou, the local government designated 39 Mobike parking areas across the city to support us," said Hu.
"Shanghai government not only earmarked parking areas but also set up signs to teach people how to use Mobikes," she added.