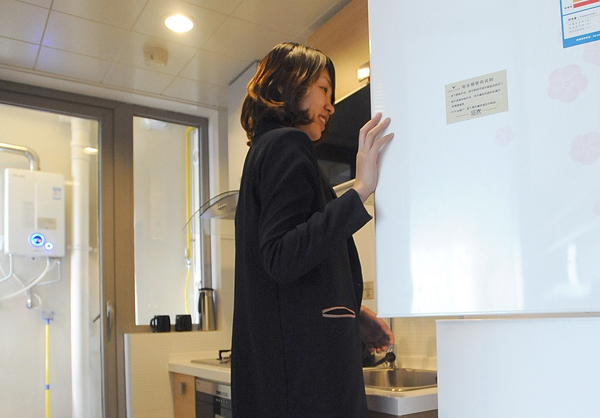 A tenant checks the kitchen in a rental apartment in Chengdu, capital of Sichuan province. PROVIDED TO CHINA DAILY
During my vacation in May in Europe, I had my first experience of peer-to-peer accommodation, an important component of the now trendy sharing economy, and found it pretty cozy.
In Bordeaux, we stayed in a centuries-old apartment right at the center of the city, with convenient access to its tram system, while in Madrid, we chose a modern apartment near the Acacias metro station. They were all clean, tidy and comfortable, and provided us with virtually all the amenities that a hotel could offer.
What really lured us to stay at the privately-owned apartments was they are cheaper. For the Bordeaux room, the charge was 100 euros ($110) per day, and the rate for the Madrid apartment was almost the same, with parking fees included.
With all conveniences and low costs, it is no surprise that P2P accommodation has developed so fast in recent years in China and across the world, given the advantage of the growing internet and mobile internet penetration rates.
P2P accommodation is a business model in which private homeowners list their idle but furnished and decently-equipped apartments on third-party platforms for short-term rental, and through which the owners turn their idle property into money spinners and tenants can save money while enjoying comfortable stays.
A survey, conducted by the government think tank State Information Center and the Internet Society of China, showed that the size of China's sharing economy amounted to 1.95 trillion yuan ($294 billion) in 2015, and about 50 million people were involved in the business, directly or indirectly, as service providers. It predicted the sharing economy will maintain a 40 percent annual growth in the coming five years, and its scale is expected to account for 10 percent of the country's GDP by 2020. P2P accommodation should constitute a big chunk.
That's pretty encouraging.
Considering the sharing economy as part of the solution to boost growth and develop the services-driven economy, both the central and local governments have thrown their weight behind it.
Premier Li Keqiang stressed developing the sharing economy in the Government Work Report earlier this year. And in March, 10 ministry-level departments including the National Development and Reform Commission issued guidelines for encouraging green consumption, which underscored the development of short-term housing rent and homestay services.
Airbnb Inc, a US-based services provider between homeowners and tenants, is an example of the success of peer-to-peer accommodation. It now has more than 2 million listings in more than 34,000 cities across the world. This nine-year-old company can now offer as many rooms as Hilton Hotels & Resorts, which has taken about a century to grow to its current scale. At the same time, accommodation sharing is also redefining the traditional travel and hospitality industry.
And Airbnb's Chinese peers, including Zhubaijia and Xiaozhu, are catching up quickly and are also cashing in on the trend and have reaped their sweet harvest in the past few years while helping drive the growth of Chinese accommodation sharing.
For tenants like me, however, we need also to consider the other side of the coin - risks when deciding to stay in other people's homes, which include safety, hygiene and dispute settlement.
As the sector grows by leaps and bounds, the government has to work out rules to regulate the business in order to ensure its sustainable development and a level playing for all participants. Governments have taken notice of the problems and are working on them.
Finance Minister Lou Jiwei said in mid-July at the G20 meetings of finance ministers and central bank governors in Chengdu, Sichuan province, that the government will work to provide a level playing field for the sharing economy to ensure its healthy development and fair competition with traditional players in the sector.
After my first experience of peer-to-peer accommodation in France and Spain, I'm looking forward to trying the Chinese P2P accommodation market when I travel to other cities sometime soon.