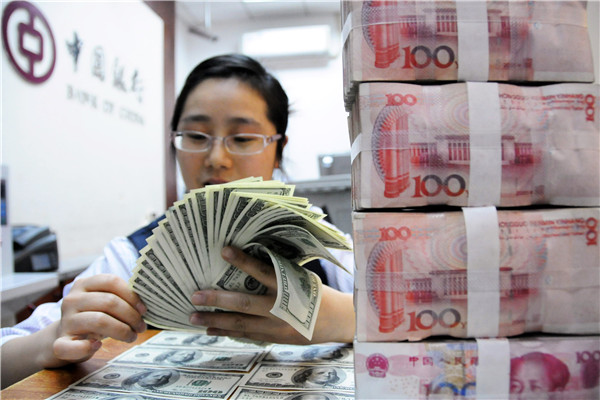 A clerk of Bank of China counts US dollars at a domestic branch.XINHUA
Chinese banks are increasing their clout in financing international mergers and acquisitions. The nation's lenders were mandated lead arrangers on $19.9 billion of global syndicated loans for M&A this year, raising their share of that market to 4.4 percent from 0.9 percent in 2015, data compiled by Bloomberg showed.
While Bank of China Ltd led, second-tier lenders have increasingly joined the fray. China CITIC Bank International Ltd helped helm a $12.7 billion loan in June backing China National Chemical Corp's purchase of Syngenta AG. China Merchants Bank Co led a $3 billion loan in July for the privatization of formerly New York-listed Qihoo 360 Technology Co, Bloomberg data showed.
With investment opportunities sparse amid the country's weakest economic expansion in a quarter century, Chinese banks are focusing more on cross-border lending.
"Before it was only top-tier banks active in underwriting outbound M&A financing deals, but now the second-tier lenders are also competing for the business," said Jack Chan, a financial services managing partner at global auditing firm EY.
"It has everything to do with the recent government policies encouraging the nation's firms to go abroad," Chan said.
Big Chinese companies face few opportunities for domestic investment at the moment, spurring demand for overseas M&As, according to Wei Hou, an analyst at Sanford C. Bernstein in Hong Kong. Financing such deals overseas offers smaller Chinese banks an opportunity to grow, Wei said.
"Second-tier Chinese banks want to build up their investment banking arms," said Jimmy Leung, China financial services leader at PricewaterhouseCoopers LLP in Shanghai.
Bloomberg