Undergraduates show case studies under the theme of One Belt One Road Initiative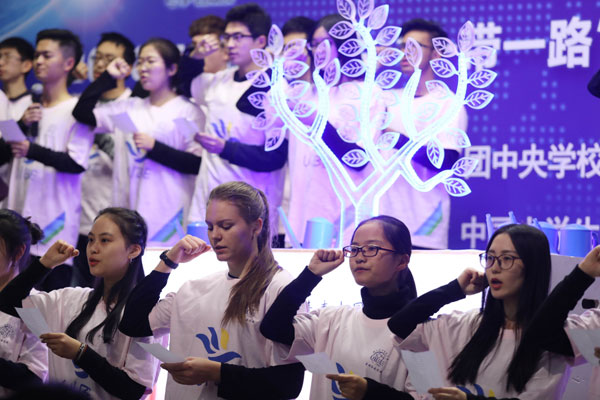 Students from different countries vow to contribute to the One Belt One Road Initiative. Photo by Zhu Xingxin/China Daily
Analysis and suggestions for the potato processing industry in Inner Mongolia and information on how much Russians know about China are among the reports prepared by undergraduates based on case studies they made this summer in countries that are part of the One Belt One Road Initiative.
More than 9,000 students from 313 universities participated in the case study project. They spent two months walking through the areas and countries along the path of the One Belt One Road Initiative and doing research under one of the six themes. The studies were released on Thursday at the University of International Business and Economics.
Students from Shenzhen University went to the China-Kazakhstan border trade zone and focused on the current financing situation of small and micro businesses in Khorgos, Xinjiang Uygur autonomous region. After interviewing people associated with 22 local enterprises and analyzing policy and statistics, the group concluded several main causes of the difficulties businesses have in securing loans and proposed some feasible suggestions.
Taking advantage of e-commerce, a group from Hainan University presented a plan to open an online store, which would partner with local producers within the One Belt One Road region to promote and sell their specialties.
Some participants have already set up their own company. A team from Xidian University has started selling local agricultural products through their online shop, named Xiao Man Liang Cang.
The project included six different topics, ranging from cultural and creative products to the financing of small and micro businesses and from rural care to China's international image, as well as discovering new product and other ideas related to One Belt One Road.
Jiang Qingzhe, party secretary of the University of International Business and Economics, hoped the project will keep attracting students, and thus generate more innovative ideas for further development.