Ohio attack worries parents of Chinese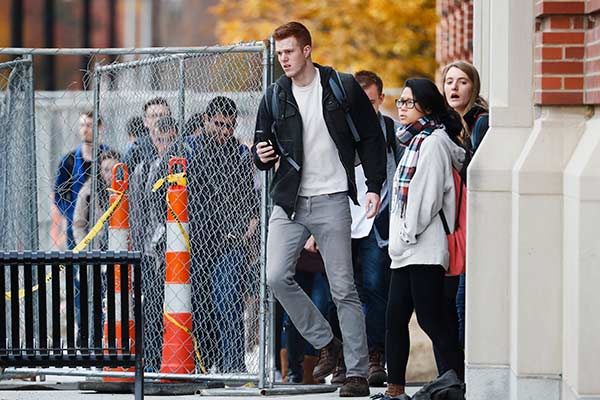 Students leave buildings as police respond to an attack on the campus of Ohio State University in the United States on Monday. JOHN MINCHILLO/AP
The attack on the campus of Ohio State University on Monday has raised concerns among Chinese parents about the safety of their children studying in the United States.
The attacker, an 18-year-old Ohio State student from Somalia identified as Abdul Razak Ali Artan, drove a car into a group of people on the campus and then began stabbing people with a butcher knife. Eleven people were injured, one of whom was in critical condition, The Associated Press reported. The attacker was shot to death by a police officer.
Authorities were investigating whether the incident was a terrorist attack.
Tang Xiaobing of Beijing, whose son attends a high school in the US state of Connecticut, said she immediately contacted her son after hearing of the attack, although Connecticut is far from Ohio.
"As an old Chinese saying goes, a mother is always concerned about her child when the child is thousands of miles away from home," the 47-year-old said. "I know that the attack was not in my son's city, but every time I hear about such incidents, I still want to make sure that he's safe and remind him a thousand times to take care of himself."
The US has long been a major destination for Chinese studying overseas. Ohio State University, a public institution in the east-central United States, has attracted a large number of Chinese students, said Li Peng, deputy general manager of the Kentrexs Education Group, a Beijing-based agency that arranges for young Chinese to study in the US.
According to The Lantern, the Ohio State University student newspaper, Chinese students account for nearly 60 percent of the university's international student population at the main campus, which has a total of 60,000 students. In 2013, there were 3,606 Chinese undergraduate, graduate and professional students enrolled in the university.
The current number of Chinese students on the campus was not available. However, according to the university's 2016 enrollment report, China tops the list of countries of origin for its international students.
Xie Hui, a resident of Jinan, Shandong province, said she had planned to send her 15-year-old daughter to study in the US, although one factor holding her back is the safety issue.
"I know that attacks like the one in Ohio are events of small probability, but I just can't help worrying," she said. "And each new incident adds to that concern."
Li of Kentrexs said his company will soon offer safety training to students, adding that some overseas education consultancies already do so.
Chong Xiao and Judy Zhu in New York contributed to this story.