Beijing tops China Integrated City Index 2016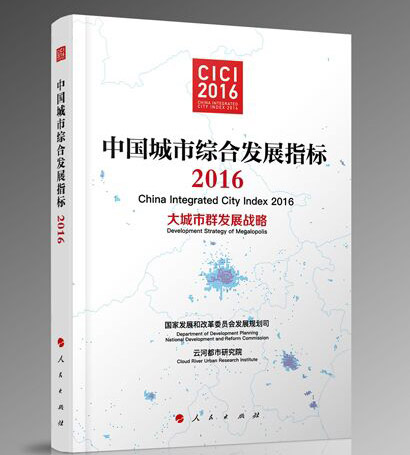 The cover of China Integrated City Index 2016. [Photo/China.org.cn]
Beijing, Shanghai and Shenzhen top the city rankings based on economic, social and environmental dimensions, followed by Guangzhou, Tianjin, Suzhou, Hangzhou, Chongqing, Nanjing and Wuhan, according to China Integrated City Index 2016, issued by the People's Publishing House on Nov. 28.
Specifically, Beijing surpasses Shanghai in the social dimension -- inheritance and exchanges in particular, while Shanghai is superior to Beijing in the economic and environmental dimensions.
From the environmental point of view, Shenzhen ranks first and Guangzhou outperforms Tianjin. The five cities of Suzhou, Hangzhou, Chongqing, Nanjing and Wuhan receive relatively lower environmental rankings, although they account for five of the top 10 cities in the social and economic rankings. Suzhou, despite the best environmental performance among the five cities, ranks only twentieth.
According to the report, cities with higher overall rankings often perform badly in the environmental dimension.
Zhou Muzhi, a professor at Tokyo Keizai University and head of the expert panel for China Integrated City Index, explained that the Index included the environment as one of the three dimensions in line with the implementation of the National New-Type Urbanization Plan (2014-2020) and put into practice the idea of integrating ecological civilization into the process of urbanization.
Evaluating a city from the "green" perspective in an all-around way is a guide for value orientation, he said.
China Integrated City Index, the first authoritative, comprehensive and practical study of its kind, aims to analyze and evaluate the sustainable development of Chinese cities with indicators. Based on an advanced idea, it uses quantitative and visual means to set indicators, collect data, analyze it and make an evaluation.
Firstly, the index system is composed of three dimensions, namely society, economy and the environment. Each dimension has three second-level indicators, and each second-level indicator includes three third-level indicators. All together, these 27 indicators are supported by 133 specific ones, hence forming a simple and clear pyramid structure. Based on this structure, quantitative and visual analysis is carried out to make clear complex urban conditions.
Secondly, the data used in this study encompasses statistics from governments at various levels, big data from the internet and satellite remote sensing data. The study covers all 295 Chinese mainland cities at the prefecture level and above.
Thirdly, the evaluation method introduces the concept of "deviation value," which is a common international practice. Huge, complex data were converted to comparable index data, and evaluation was made according to indicators at each level, giving a faithful and informative description of a city's development.
China Integrated City Index will be published annually, Zhou said. This year's report was jointly compiled by the Cloud River Urban Research Institute and the Department of Development Planning of the National Development and Reform Commission (NDRC). It will provide an advanced cognitive orientation for values, a scientific index evaluation system and a digital tool for policy management, hence pushing forward transformation during China's urbanization.
"It provides a scientific benchmark and frame of reference for China's urbanization," Zhou emphasized. "At the macro level, it can be used as the tool to help formulate policies for urbanization; at the micro level, it can be taken as an element of urban planning. Moreover, it offers criteria for evaluation of a city's policies and planning."
Led by Zhou and Xu Lin, director of the Department of Development Planning of the NDRC, the research involved the full participation of many experts including Yang Weimin, deputy director of the General Office of the Leading Group for Financial and Economic Affairs of China, Zhou Qiren, professor of Peking University, Du Ping, executive vice director of the State Information Center of China, and Yoshinori Yokoyama, specially appointed professor of the University of Tokyo.