Northeast China faces severe brain drain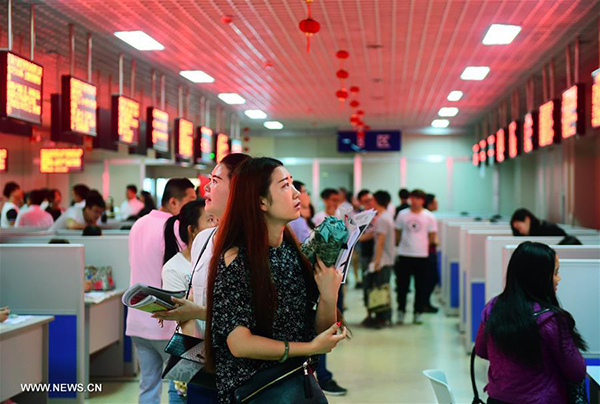 Job hunters look through employment information at a job fair in Changchun, capital of Northeast China's Jilin province, June 22, 2016.[Photo/Xinhua]
China's northeast has lost more than 1 million people in the last ten years, many of whom are high earners and well educated, seeking better jobs and lifestyles, according to figures from the National Development and Reform Commission.
The information was released to counter earlier reports that northeast China, a geographic term that mainly includes Helongjiang, Jilin, and Liaoning provinces, was losing a million people each year.
"The population loss of the region is not that serious," said Zhou Jianping, head of the Department of Northeastern Revitalization under the commission, "But we have to admit, many of the one million we've lost in the past decade are top executives and management," he added.
China's northeast, known as the rooster's head due to its shape, was once China's industrial heartland before the 1990s. Since then there's been slower economic growth, a major concern of the region.
Jilin province's GDP growth rate in the first two quarters was 6.7%; Helongjiang province 5.7%; with Liaoning province experiencing contraction. Some of the area's industry is on the brink of bankruptcy.
Inevitably perhaps, talents have turned to companies elsewhere in China offering better terms and conditions of employment.
Wage levels for graduates are similarly uncompetitive due to poor economic growth. Average salaries in the region are the lowest in the country.
But some commentators at China National Radio have suggested it's not all about money, if you want to keep and attract more talent to the region.
They say the system has long applied restrains to the development of individuals. The government's hands are too long while the market's invisible hands are too short, say the commentators.
The downward trend in the area's population is further affected by the low birth rate. The latest national census, carried out in 2010, put the birth rate of the region at about 0.75, far below the average level of 1.18 for the whole nation.
At the other end of the scale, an aging population is putting further stress on northeast China's attempts at revitalization.