Students keen to promote football in nation's schools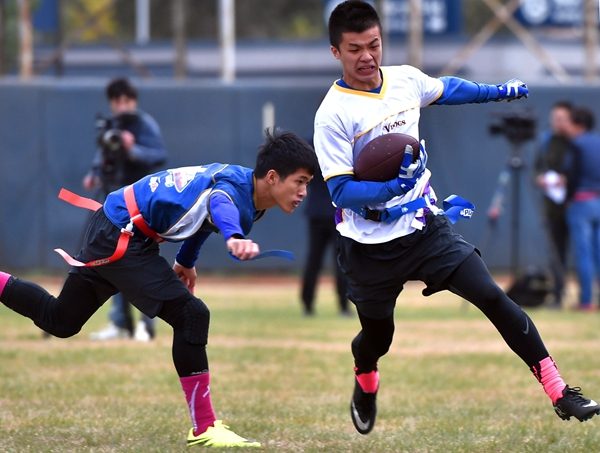 A Guangzhou University of Chinese Medicine player pulls the flag belt off the waist of his opponent at the final of the eighth NFL China University Bowl in Beijing on Oct 30.Nfl China / For China Daily
When Dong Shi first saw a group of seniors throwing around an oval-shaped ball on a soccer pitch in his freshman year at Guangzhou University of Chinese Medicine, he was fascinated.
"I thought 'Wow, it looks so cool but what are they playing?' That was my first impression of American football - intriguing but strange," said Dong, who is now in his senior year, majoring in physical health.
Driven by curiosity, he signed up with the university's football team and began to practice twice a week. He has since captained the varsity squad in regional and national competitions.
"Now, there are more and more people getting interested in this sport as they are exposed to it and have greater access to it," Dong said last month, after leading his team to win this year's National Football League China University Bowl in Beijing.
Introduced by the United States-based NFL in 2009, the university bowl is a collegiate championship in which athletes play the less-physical flag football without protective gear. This year's event attracted 60 college teams from across the country.
In flag football, players defend by removing flag belts attached to their opponents' waists. To minimize bodily contact, NFL-style tackles are not allowed.
At the university bowl, Guangzhou University of Chinese Medicine defeated the University of Shanghai for Science and Technology, 52-6, to win its third national title in four years at Beijing's Fengtai Stadium.
According to Dong, who was named most valuable player in the final, football is a perfect fit for universities filled with young men as it promotes masculine qualities.
"I have really enjoyed the teamwork and close ties with my guys throughout all the years of playing the game. It's been a real asset in my life," he said.
Richard Young, managing director of NFL China, said the sport was increasingly becoming accepted on Chinese campuses.
"I don't think the purpose here is to develop NFL players. I think the purpose here is to have young people work in groups and learn to succeed and even fail in groups, which is just as important. Flag football is more about participation and being together with friends and learning to figure out how to solve problems," he said.
To further promote interest in the game, this year's final also featured mini clinics on the sidelines as part of the NFL Play 60 youth-engagement campaign, which allows spectators to experience and learn fundamental skills with protection and guidance.
The Play 60 program in China has reached out to more than 19,000 people this year, while about 1.5 million viewers tuned in every week to watch live NFL games on 15 media platforms this season, according to NFL China.
Participation in tackle football is also on the rise as more than 50 amateur clubs have been established nationwide to play in grassroots leagues such as the 16-team American Football League of China.
"Interest is soaring but there remain challenges in providing more access to the sport and changing its reputation among Chinese for being dangerous," said Shen Xizheng, general manager of AFLC club, the Shanghai Night Hawks.
Young admitted that the sport is now lagging behind its Olympic counterparts such as soccer and basketball, but said the school-first strategy will help it close that gap.
"The challenge is to overcome the thought that the game is foreign or Chinese don't play it. They do actually," he said.
"The big priority is working more to spread out with leagues that are going on here, maybe tackle or flag leagues, to increase the number of opportunities for more kids to play. We want to work with all levels of schools including primary and secondary schools to spread it out."