Working together to spur economic transformation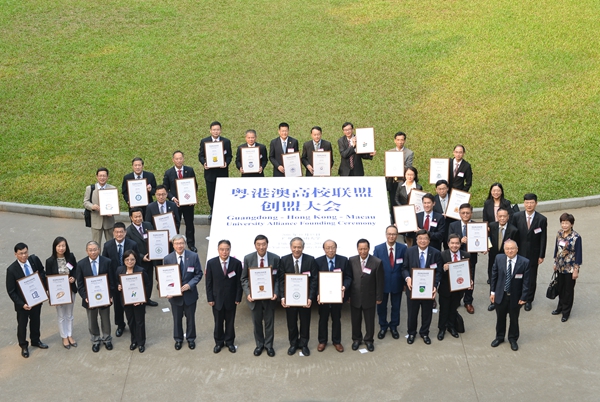 Representatives from 26 universities in Guangdong province, Hong Kong and Macao gather at the founding ceremony of the Guangdong-Hong Kong-Macao University Alliance in Guangzhou, on Nov 15.Photos By Ye Ziqi / For China Daily
University alliance seeks to break down barriers, cultivate innovative talent
Twenty-six universities in Guangdong province, Hong Kong and Macao have formed an alliance aimed at facilitating scientific research cooperation and jointly cultivating talent for economic transformation.
Approved by the Ministry of Education, the Guangdong-Hong Kong-Macao University Alliance was launched by the Guangdong-based Sun Yat-sen University, the Chinese University of Hong Kong and the University of Macao. Its first 26 members - 10 from Guangdong, nine from Hong Kong and seven from Macao - are some of the best in their respective areas.
As geographical neighbors with close economic and trade ties, the universities in Guangdong, Hong Kong and Macao have long maintained cooperation in scientific research, but this has mostly taken place between individual scholars in the past.
The Hong Kong-Zhuhai-Macao Bridge, which is scheduled to open to traffic by the end of next year, is expected to further strengthen the alliance. It will cut travel times between the three areas to about half an hour.
"The founding of a university alliance takes our cooperation to a higher level by breaking the current barriers to resource sharing," Luo Jun, president of Sun Yat-sen University, said after the alliance's founding on Nov 15.
For example, a university on the Chinese mainland cannot apply for government funding from Hong Kong or Macao and vice versa.
This will change if the university alliance is able to win support from the governments of Guangdong, Hong Kong and Macao to establish a joint fund for cooperative projects between alliance members, Luo said.
Science, technology and talent are the most important factors when competing in the global market, according to Chen Guanghan, vice-president of the Hong Kong and Macao Development Studies Institute at Sun Yat-sen University.
"To seek sustainable development, the three areas are facing the same challenge - shifting the engine for economic growth from investing in money, land and labor to innovation," Chen said.
"Education, especially higher education, is key to innovation as it cultivates talent."
The universities in Guangdong and Hong Kong, in particular, have complementary advantages, according to Xia Ying, assistant to the president at Chen's institute.
"Some universities in Hong Kong have outstanding abilities in scientific innovation, but they find limited resources in Hong Kong to turn research findings into marketable products. There is a more comprehensive system and industry on a larger scale in the Pearl River Delta, where innovative technology can be applied," Xia said.
Guangdong can play an integral role in boosting innovation to create more economic drivers, said Luo, president of Sun Yat-sen University, adding that innovation and entrepreneurship are booming in the area, especially in Shenzhen where there are many maker spaces.
"To be a maker is very attractive to young people. Many pre-eminent young people have come to Shenzhen and other cities in Guangdong to work on technological innovations and start up their own businesses," Luo said.
"It will help students and fresh grads to innovate and become entrepreneurs if universities establish maker spaces on campus and attract business incubators to be built near their schools.
"We hope to see more platforms built to support young people's innovation and entrepreneurship in Guangdong, Hong Kong and Macao with the influence of the university alliance."
xujingxi@chinadaily.com.cn