Student survives nine hours without using mobile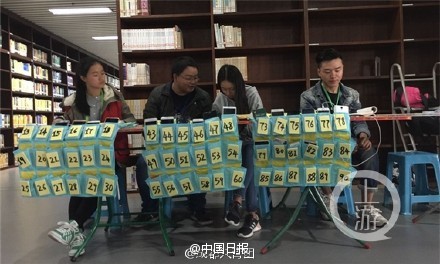 The bags storing students' phones at the library of Southwest University in Southwest China's Chongqing municipality. [Photo from Sina Weibo]
A university in Southwest China's Chongqing municipality set up a reading room as part of a campaign that barred students from taking their mobile phones with them in case the device distracted them from concentrating on their studies, cqcb.com reported.
Reportedly a student named Hu Xiaopeng participating in the campaign studied 530 minutes without using his mobile phone even once. Unlike Hu, another one picked up his mobile phone in less than 20 minutes.
"Having seen many students use their mobile phones in the library, a habit that shortens their study time and negatively impacts their learning, we decided to open this reading room," said Zhang Shuran, the person responsible for the project at the university.
Zhang added that students can keep their phones in designated bags with numbers on them. The bags are placed on a desk near the door of the reading room.
"Staff members at the reading room will check the phones when there's a call," said Zhang, adding that they will inform students when their parents or teachers call them, but will not tell students if an unknown person is calling or when there's a text message.
Based on the time students hand in their phones when they come to the reading room and the time they get it back when they leave the room, Hu Xiaopeng from College of Animal Science and Technology of the university set the longest time. Hu spent 530 minutes studying without using his phone.
Though feeling somewhat surprised, Hu said: "It's bad to keep mobile phone with you when you are reading or studying."
Hu used to take his phone with him when he went to classes or read books in the library. He would spend considerable time answering the calls or messages. He admitted that it took much time. So Hu decided not to take it with him when he began preparing for the postgraduate entrance exam.
Hu said: "I will still take my phone to classes, but I will not use it. I might miss some information by not having it beside me, but it helps me focus on studying. I will keep studying in libraries without using my phone."
However, some students find it very challenging and difficult to study without mobile phones.
"I want to focus on studies, but I always want to see whether someone has sent me a text message on WeChat," said a girl who went out of the reading room and took back her phone twice after making some excuse in 30 minutes.
Another student surnamed Liu, a mobile game enthusiast, said: "It's very difficult for me to study without my phone. This activity really tests one's self-control."
Liu plays mobile games more than eight hours each day. He took part in the activity after his roommate asked him to. However, he could not resist the separation and gave up the challenge within 20 minutes.
However, Liu said he will participate in the activity later to free himself from the addictive phone.
The campaign has attracted nearly 200 students since it was launched a week ago.
Some internet users praised the campaign. One user named Liujingc said: "It's good. I don't bring my phone when going to library in case I get distracted."