Nutrition among students improving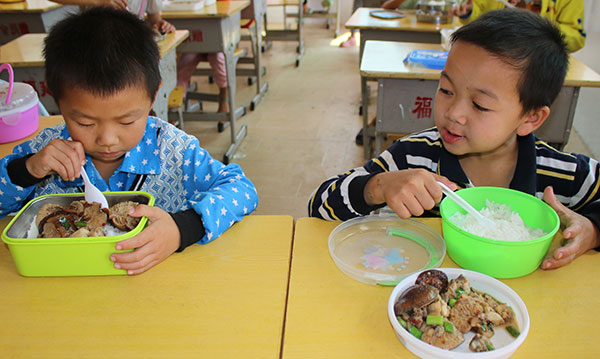 Students eat nutritious meals at the classroom of a primary school in Suichuan county, Jiangxi province, on Sept 26, 2016.[Li Jianpng for China Daily]
Malnutrition rates among Chinese students continue to fall as the country's school health promotion initiative takes effect, according to a senior education official.
"The percentage of Chinese students who are physically healthy has reached more than 95 percent," Hao Ping, vice-minister of education, said during the Ninth Global Conference on Health Promotion.
Ministry of Education statistics show that the average height of boys and girls aged between 6 and 15 rose by 0.4 centimeters and 0.6 cm respectively in 2014, compared with 2012, while their average weight increased by 0.3 kilograms.
The percentage of students who fail to eat three meals per day dropped from 10.4 percent in 2012 to 7.1 percent in 2014, while the percentage of boys and girls with anemia in West China decreased by 3.3 percent and 3.9 percent respectively.
Hao said the government sees school health promotion as a priority and adheres to the idea of "health for each student". Therefore, to ensure the health rights of children in less developed regions, the ministry, in 2011, launched a nutrition improvement initiative for rural students of compulsory education years.
Since 2011, more than 159 billion yuan ($23 billion) has been invested in the project, covering more than 33 million students, Hao said.
The ministry also requires all students from primary schools to colleges to participate in physical exercise for at least an hour every day by making exercise during class breaks part of the school syllabus.
"More than 14,000 schools that promote playing soccer have been established in the country. These are aimed at inspiring students to participate more in physical exercise and become healthier," Hao said.
However, health experts said that there are still areas that need addressing, such as inadequate sleep, obesity and shortsightedness.
Among students aged 7 to 12 in urban areas, 18 percent of boys and nearly 10 percent of girls are obese, according to a survey jointly conducted by the General Administration of Sport of China and the Ministry of Education, which was released in November last year.
Last year's survey also found that more than 30 percent of 7-year-olds have myopia.
China has made significant progress in promoting fitness programs among the public in the past few years. By the end of 2014, more than 33.9 percent of the population said they exercise frequently, an increase of 5.7 percentage points from 2007, said Yang Shu'an, deputy head of the General Administration of Sport of China.
The country has released its latest National Fitness Plan (2016-20), hoping to promote overall health development, Yang said.