Students take safer route for new year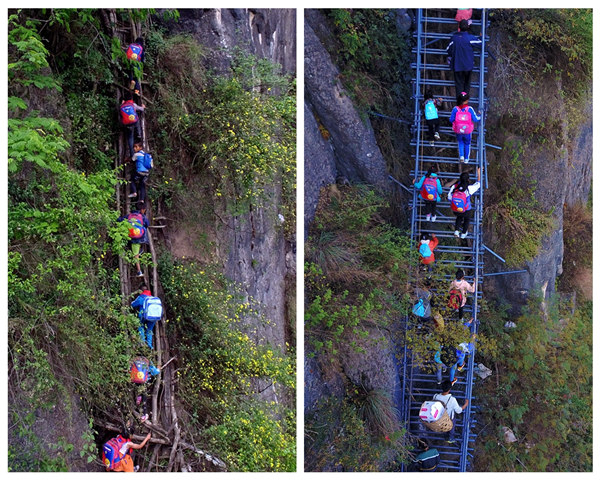 Before completion of a replacement ladder, children going home from school in May (left) climb a rattan ladder up a cliff to their isolated village on a mountain in the Liangshan Yi autonomous prefecture of Sichuan province. On Saturday, the children scale a new steel ladder (right), which saves them an hour on average on the way home. CHEN JIE / BEIJING NEWS
Two days before the start of the weeklong Yi lunar new year holiday, students from a remote village in Sichuan province returned home on Saturday.
But unlike previous years, they had a much safer way of getting home — climbing a steel ladder instead of old rickety rattan ladders.
"The steel ladder has reduced the time it takes to return home by more than an hour. It's much safer, and I no longer feel scared," said Mose Niuniu, a 6-year-old student.
The boy is one of 15 children from 72 households in Atuleer village in the Liangshan Yi autonomous prefecture who used to rely on an 800-meter-long network of rattan ladders without railings on their way to and from their boarding school every two weeks.
The village is on the top of a cliff more than 1,400 meters above sea level. Its only link to the outside world is the ladder.
The rattan structure, made up of a chain of 17 smaller ladders tied together without any railings or other safety features, had been used by villagers for years.
Villagers had to use them to reach the nearest market several kilometers away once a week to buy necessities and sell their farm produce, including peppers and walnuts.
According to Song Ming, an information officer for the prefecture government, there are many rattan structures in his area, but the one leading to Atuleer was the most dangerous.
He has scaled rattan ladders before, but when he scaled the one connected to Atuleer in August, Song said he was terrified.
"Tragedies took place from time to time. This year, a villager in his 40s died after falling off the ladder," said Er Dijiang, head of Atuleer village.
Photos of village children creeping up the cliff on the rattan ladders published by a Beijing newspaper in May sparked public outcry, prompting Liangshan officials to address the issue.
But it was impossible to relocate the villagers, who said they did not want to leave their time-honored habitat. So Lin Shucheng, Party chief of the prefecture, promised to build a steel ladder to replace the rattan ladders to ensure the safety of the villagers.
The steel ladder, complete with handrails, was built at a cost of 1 million yuan ($145,000), with the local governments splitting the cost.