A foreigner's guide to Singles Day shopping spree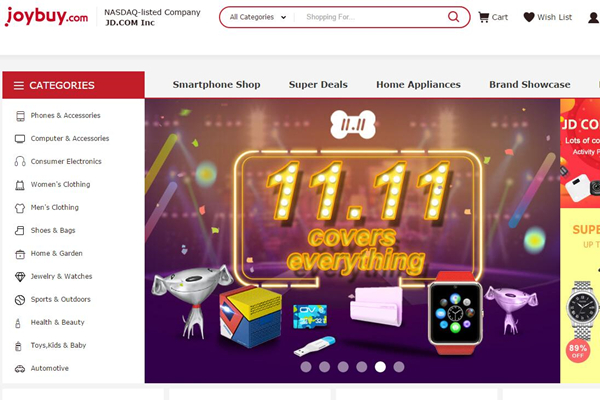 A screen shot of joybuy.com, English-language page for JD.com, China's second largest e-commerce platform.
With just one day to go until China's phenomenal Singles Day, domestic buyers are busy hunting for cyber bargains, loading their virtual carts and counting down to the minute prices drop. Many foreigners may feel frustrated for missing out on the shopping carnival due to language, cultural and logistic barriers.
But there's good news for international bargain hunters, China's e-commerce platforms are more foreigner-friendly than many would expect. Here is a guide to help buyers of all nationalities get involved.
Shopping agents
A comparatively easy and quick way to buy from Chinese online stores is to use a shopping agent. All you need to do is to select your "prey" from Chinese shopping websites and submit the item link to the agent, which will then give you a quote and buy it for you.
Once the purchase is made, customers will be updated mostly via email on the delivery status and sometimes photos of their package too. Goods can also be returned via the agent.
The agents often charge a service fee of about 10 percent of the goods' price and extra charge for after-sale service.
Buy directly
For those who are more adventurous and want to save the service fee, many shopping websites in China also offer a chance to buy directly.
For example, Taobao, China's biggest online retailer, has launched its overseas market website and official forwarding services for international buyers in countries such as USA, Canada, Australia, Japan and Singapore.
However, although Taobao offers English registration, the main shopping page only supports traditional Chinese and simplified Chinese. Therefore, it's recommended buyers install a webpage translation plug-in to their browser or seek other translation tools.
China's second largest e-commerce platform, JD.com, on the other hand, has a Russian and English-language page for foreign buyers, joybuy.com.
With categories ranging from dominant electronics like cell phones, computers to clothes and automotives, joybuy.com is ready to provide more than 40,000 products with discounts of up to 80 percent.
Payment
As for payment, most of China's e-commerce websites now accept various options including Alipay, UnionPay and credit cards.
Shipping
For shipping, Taobao offers two options including direct shipping and global consolidation and shipping. The Taobao Global Direct Shipping is a Taobao official forwarding service in Singapore and Malaysia areas. All you need to do is checkout all items in your shopping cart at once, select "Taobao Direct Shipping" and make a one-off payment.
Taobao Global Consolidation and Shipping is available in more countries but more complicated as buyers have to pay for the shipping processes from sellers to China's forwarder's warehouse and from warehouse to buyers separately.
Similar shipping services are offered by JD.com and Dangdang.com. For some products, the shipping is even free.
After-sale service
For most online marketplaces, if the products are not as described, customers can return them and get a full refund or keep the products and get a partial refund agreed with the seller. The detailed refund policy can be found on each website.