Microsatellites set to blast off for success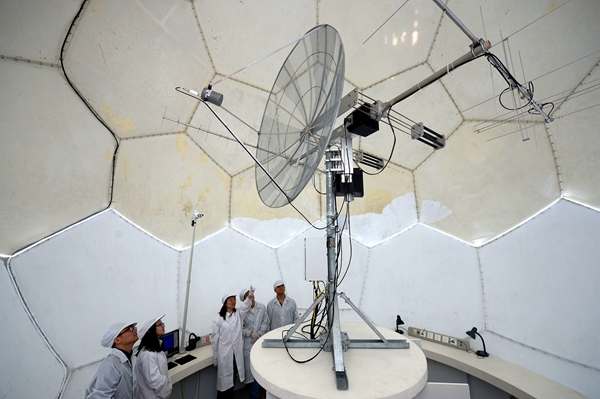 Scientists assess monitoring equipment at the satellite ground-control station at Northwestern Polytechnical University in Xi'an, Shaanxi province. The station is one of three around the world participating in the QB50 microsatellites project funded by the European Commission.[Photo/Xinhua]
Falling costs and rapid development mean the sector is becoming increasingly viable for private operators. Cheng Yingqi reports.
While the accomplishments of China's microsatellite industry have recently been overshadowed by the success of the nation's manned space program, the sector has developed so rapidly that the cost of providing commercial services has fallen to a level where the use of small satellites is now within the range of private companies.
Microsatellites, usually weighing less than 500 kilograms, are of lower mass and size than traditional craft, such as those used by the military, which use customized parts to ensure complete reliability. By contrast, the components used in microsatellites, which have less stringent standards of dependability, can be bought at hardware stores, making them perfect for commercial use.
"Satellites can watch over the globe and provide a view that other devices can't. For example, we can monitor traffic at any port or logistics center on Earth and thus calculate the scale of operations, which has great commercial value," said Cao Jin, a senior engineer at the Innovation Academy for Microsatellites, which is affiliated to the Chinese Academy of Sciences.
"A number of innovators in China, including research institutes, colleges and startups, are actively exploring the commercial value of microsatellites," he said.
The country's major developers are State-owned research agencies such as the Chinese Academy of Sciences, China Aerospace Science and Technology Corp and China Aerospace Science and Industry Corp.
One example is Cao's academy, which sent the Banxing 2, or Companion 2, microsatellite into space with the Tiangong II space lab in September.
The satellite's mission is to photograph the Shenzhou-XI manned spaceship, which docked with the space lab on Oct 19 for a 30-day mission that is scheduled to draw to a close soon.