Survey reveals Shanghai singles' attitudes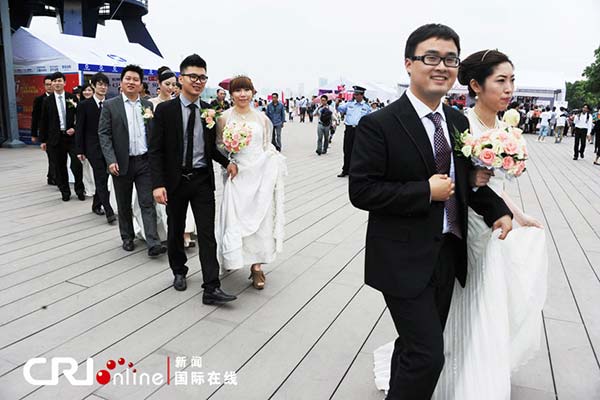 A file photo shows the annual matchmaking festival in Shanghai.[Photo/CRI]
The Shanghai Matchmaking Association has recently released a survey report, outlining the trends and struggles that dominate the city's single individuals' attitudes in dating and marriage.
Based on research of some 2,000 singles aged between 10 and 40 years old in Shanghai, the survey results highlight only 3 percent of the interviewees have expressed the willingness to accept a partner from the Northern provinces.
Over 77 percent of single Shanghai interviewees want to marry local people, while 19 percent hope their partner could be from Hong Kong, Macau and Taiwan, or even from overseas, data shows.
A single, 28-year-old advertisement company employee Lily Wan explained people's different living habits, life styles, and temperament in south and north regions is the major reason leading to this preference.
In addition, most interviewed single individuals said, if they could not find a local partner, a person from neighboring provinces is also acceptable.
The emotional intelligence quotient (EQ) is another key factor valued by those surveyed in finding an ideal partner, although details of desirable characteristics are varied between men and women.
The top priority that men considered before rushing into a relationship is appearance, which is followed by personalities, age, living habits and family background, based on the research findings. While the preference order for women is personalities, economic conditions, living habits, capability or potential, and appearance.
Another dilemma that grabs the limelight in the report is careers' influence on single people's dating experience.
According to the survey, respondents who work in areas such as technology and research and development, seems to have less love experience and narrower social circle than those involved in the communication industry.
The report further indicated, nearly 91 percent of respondents claimed a different view of the world, philosophy of life and worth of action is the major cause of a divorce.