Guangdong prepares for typhoon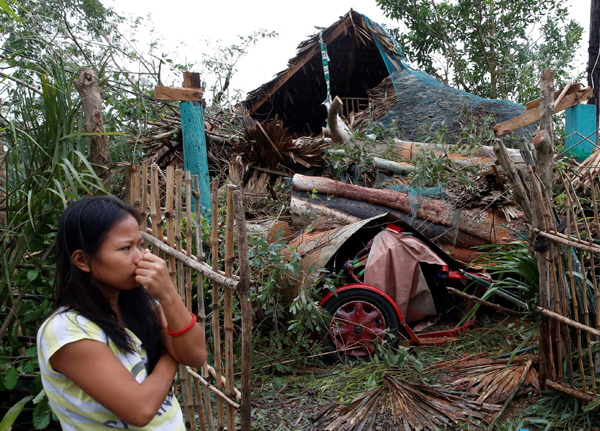 A woman stands outside her house which was damaged by a fallen tree during Typhoon Haima in Bangui, Ilocos Norte, in northern Philippines on Thursday. [Photo/Agencies]
Coastal cities and government departments in the southern province of Guangdong are on high alert and preparing for possible disasters caused by Typhoon Haima.
Haima, the 22nd typhoon to hit China this year, is expected to slam into coastal areas between Zhuhai at the mouth of the Pearl River and Shanwei in the eastern part of the province on Friday noon.
Haima, which will be accompanied by raging winds, is expected to wreak havoc in the southern Chinese region on Friday and Saturday.
All fishing boats, ferries and related vessels in the cities and counties that may be hit by Haima are required to return to typhoon shelters before noon on Friday, according to a notice issued by the provincial government on Thursday.
Major construction sites in such cities are also required to cease activity to prevent any casualties, the notice said.
Effective and concrete measures are required to protect coastal dikes and water conservancy projects, and prevent possible landslides and flooding caused by Haima.
Zhang Hongwei, a fisherman in Zhuhai, said most of the fishing boats in the city had returned to shelters by Thursday evening.
"The gales accompanying Haima are so strong that no one will dare to risk their lives to go fishing in the coming two days," Zhang said.
Guangzhou Railway Group canceled part of its train service operating in the eastern part of Guangdong.
The Guangzhou meteorological bureau issued a yellow alert on Friday, indicating that local kindergarten, primary and high school classes will be suspended.
The Shenzhen government has also ordered kindergartens and schools to suspend classes on Friday.
In Hong Kong, the local observatory forecast that the weather will "deteriorate significantly" with frequent squalls and heavy rain, a rare occurrence in late October in Hong Kong.
As seas will be rough with swells, and flooding in low-lying areas is possible, the observatory warned the public to remain vigilant and take precautions as early as possible.
Dragonair, Cathay Pacific Airways and Hong Kong Airlines estimated that flights scheduled from Friday morning to Saturday morning will be affected. The airlines urged passengers to move forward or postpone travel plans according to the situation. Taiwan's China Airlines and Mandarin Airlines had canceled 24 flights between Hong Kong and Taiwan as of Thursday.
Ferry services were closed in the Pearl River Delta. Routes from Hong Kong to Guangdong's Jiangmen, Doumen, Zhuhai, Shekou and Lianhuashan were suspended from 3 pm on Thursday until Saturday.
Train services between regional cities will be halted due to bad weather.
In Southeast Asia, Haima weakened and blew out to sea on Thursday after smashing the northern Philippines with ferocious winds and rain overnight. Flooding, landslides and power outages were evident, but large casualties appeared to have been averted after nearly 100,000 people fled to safer ground.
At least seven people were killed in the storm, officials said. But evacuations from high-risk communities helped prevent a larger number of casualties.