Typhoon Sarika brings heavy toll in Hainan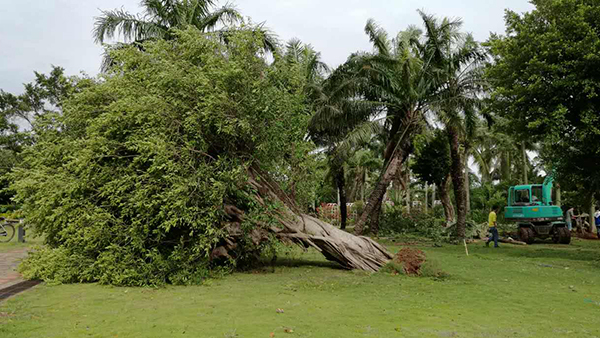 A tree is uprooted by the strong winds of typhoon Sarika in Haikou, Hainan province. [Photo By Ma Zhiping/China Daily]
A rampant typhoon Sarika has brought grave losses to local people's daily lives since it made its landfall in Hainan province on Tuesday morning.
Sarika, the twenty-first typhoon this year, seriously affected the life of more than 1.55 million people as it wreaked havoc in Haikou, the provincial capital, as well as Sanya and Danzhou. More than 2,600 rooms collapsed and about 81,700 hectares of crops were hit, leaving 17,000 hectares certain to suffer total failure this year, according to initial statistics from the Ministry of Civil Affairs.
Direct economic losses have reached 2.62 billion yuan ($388.7 million). That figure is expected to grow further as damage inspection is still underway, the ministry said.
The Ministry of Civil Affairs' National Disaster Reduction Committee dispatched working groups on Wednesday afternoon to coordinate rescue efforts in areas that have been seriously lashed by the cyclone, which brought winds of up to 162 km per hour on Tuesday morning and rainfall of up to about 300 millimeters in some areas.
The typhoon, reportedly one of the most serious in more than 40 years for October, has halted traffic to and from the island since Monday. But flights, trains and highway transportation have been resumed as of late Tuesday. Yet there are only partial services in some areas.
Hainan provincial and local authorities have sent large amounts of daily necessities such as tents, quilts and various foods to residents in disaster-stricken areas.
Rescue work will continue on the island, according to officials with the Hainan provincial disaster relief authorities.