Shenzhou XI astronaut to spend 50th birthday in space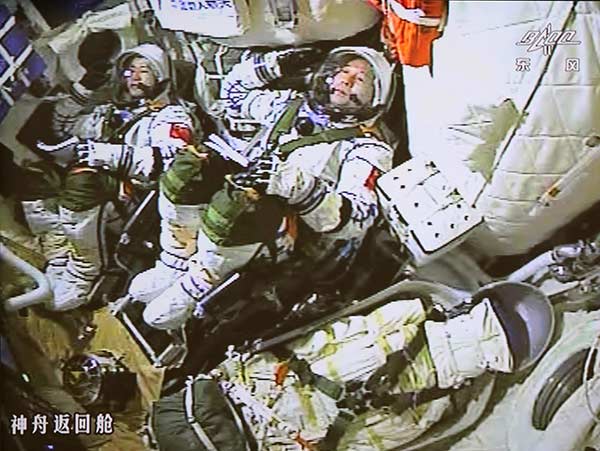 Astronauts Jing Haipeng (right) and Chen Dong salute inside the spacecraft at the moment of launching on Monday. [Photo/Xinhua]
China launched the Shenzhou XI manned spacecraft on Monday morning to transport two male astronauts – 49-year-old Jing Haipeng and 37-year-old Chen Dong to the Tiangong II space laboratory.
Jing Haipeng, commander of Shenzhou XI, will spend his 50th birthday in space during the 30-day mission and break the age record of Chinese astronauts in service.
The mission is Jing's third spaceflight following his 68-hour Shenzhou VII mission in 2008 and 13-day Shenzhou IX mission in 2012, making him the first astronaut to enter the space thrice and holding the record of most hours spent in space by a Chinese.
His companion, Chen Dong, with a safe flight record of 1,500 hours as an air force pilot, was named one of China's second generations of astronauts in May 2010, and was selected as a crew member for the Shenzhou XI mission in June 2016.
'Totally believe in each other, but do not totally believe each other'
Jing is 12 years older and more experienced than zero-space-experience Chen. How do they cooperate with each other?
Chen said they have trained together for six years. "We spent more than 10 hours every day after being selected as crew members, far beyond the time we spent with our family members."
"Brother Jing once told me to totally believe in each other, but not totally believe each other," said Chen. "We believe in each other because our lives depend on each other," he said.
"But mistakes can happen in anything, he added, "we have to offer strengths to complement the others' weaknesses and make sure every action and every order is right."
Jing Haipeng was deeply impressed by Chen's professionalism. Once during training, when Jing was about to carry out a maneuver, Chen suddenly said "No 01, wait a moment please". Jing immediately realized that he had almost made a mistake.
"Although I am the commander and an older brother and Chen has to listen to me, he never obeys me blindly and stopped me tactfully," said Jing.
Jing and Chen call each other "brothers" in private, but "No 01" and "No 02" at work.
"After taking into consideration the current status and the future of the space team, we combined veteran astronaut with new astronaut," said Huang Weifen, deputy chief designer of Astronaut Center of China, adding that he hopes more veteran astronauts will carry out future missions.