What do astronauts eat in space?
What do Russian, American, Japanese and Chinese astronauts eat in space? Do they eat the same things as on earth or something totally different? Are these foods tasty? The truth may blow your mind.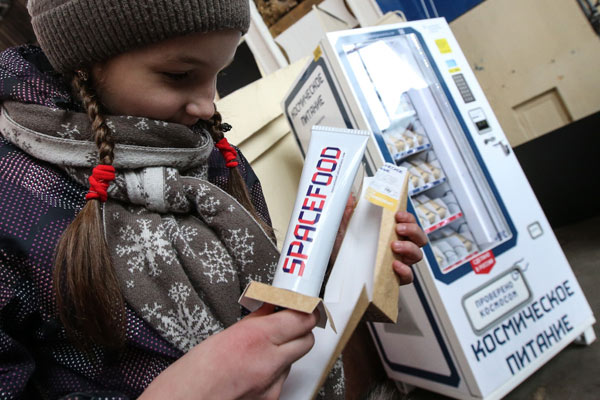 A girl buys space food in tubes used by astronauts in outer space in a vending machine in Moscow, Russia, on Feb 15, 2015. [Photo/IC]
Russia
As the first country to send astronauts into space, Russia started to develop space food since the early 1960s. Food that can be sucked was the earliest type of space food, but astronauts still felt hungry after eating them. Later, more satisfying foods like oxtongue, herring pie and chicken cutlets were then added to the menu to solve the problem.
Now Russian astronauts can enjoy a variety of food similar to on earth, such as black bread, honey cake, ham, quail, Polish pike, Russian cheese and sturgeon. Food is stored in special packages, and astronauts can eat them with a spoon or fork rather than suck them with a straw.
A new space menu, as reported by the Russian media in 2013, includes vegetable soup, mushroom soup, Russian mushroom, jelly, sesame milk curd and others.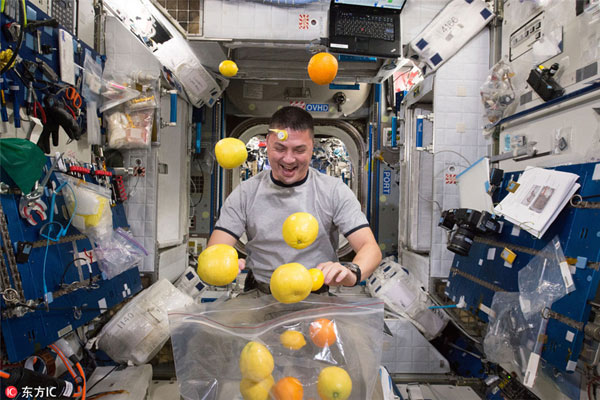 NASA astronaut Kjell Lindgren corrals the supply of fresh fruit that arrived on Aug 25, 2015. Visiting cargo ships often carry a small cache of fresh food for crew members aboard the International Space Station. [Photo/IC]
US
Fast food is the main food for American astronauts. The range of delicious food includes sausage pies, spicy grilled fish, potato roast beef, butter bread, tempeh broth, tuna salad and drinks like Coca-cola.
Space shuttle Atlantis' astronauts even enjoyed a Thanksgiving Day Turkey dinner in 2009, with smoked and irradiated turkey, candied yams, freeze-dried cornbread stuffing and green beans.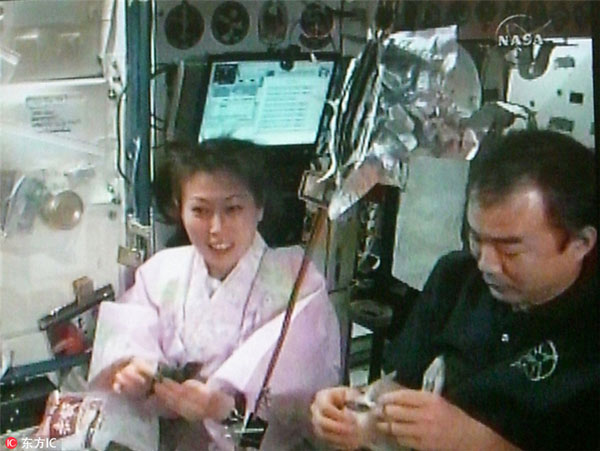 This NASA video shows Japanese astronauts Naoko Yamazaki (L) and Soichi Noguchi preparing sushi in the International Space Station on April 14, 2010. [Photo/IC]
Japan
Japanese space food expresses their unique cultural identity. Japan Aerospace Exploration Agency displayed 29 different types of space food at an exhibition in Tokyo in June, 2007. Most of these are traditional Japanese food, including rice balls, tomato fish, curry noodles, mountain vegetables, beans, glutinous rice, and sweets.
At the request of Japanese astronaut Takao Doi, Nissin Foods Holdings Co Ltd and Japan Aerospace Exploration Agency developed nine types of Japanese space food together, which includes assorted Udon noodles, tempura soba, onion scrambled chicken, fried tofu sushi, and assorted pancakes.
They are instant food and need to be soaked in hot water at 70 C before eating. The udon noodles and soba are stickier than normal to prevent the noodle soup from spilling out.
Takao Doi said that he expected to eat food from home in space before the launch of space shuttle Endeavour in 2008.