What do astronauts eat in space?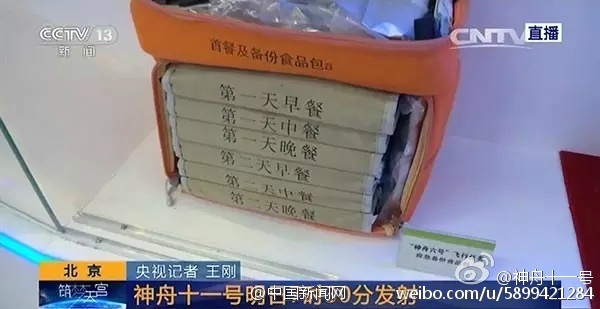 The food kit for astronauts on Shenzhou XI. [Photo from Sina Weibo]
China
Chinese space food has become more diverse and delicious in recent years. In 2003, there were 20 or 30 types of food for China's first astronaut, Yang Liwei, who was carried aloft by Shenzhou V.
On Shenzhou VII which blasted off in 2012, there were about 70 types of items. The first breakfast for crew members was assorted fried rice, dried braised Pleurotus eryngoes, pickled cabbage and pork, pickled mustard, Char Siu Sauce and milk tea.
The menu for Shenzhou X has expanded to more than 80 types of food, with moon cake and ice cream on the list. As her trip coincided with Dragon Boat festival, female astronaut Wang Yaping ate bean paste rice dumplings to celebrate the festival.
Shenzhou XI, on the other hand, carries more than 100 types of food and beverages, including spiced beef and shredded pork in garlic sauce, a popular dish in almost every Sichuan cuisine restaurant, and desserts.
Recipes were designed and arranged in accordance with nutritional requirements in different phases of the mission.
For example, the astronauts can eat congees if they lack appetite during their first days in space; Chinese food therapy will be adopted in the middle phase in line with the changes in the astronauts' physical conditions; while in the latter stage, food with low dietary fiber along with multivitamins will kick in.
The recipe will change every five days during their 33-day stay in space. All food can keep for more than one year and are free from preservatives.
Tiangong II space lab, which Shenzhou XI has docked on Wednesday, is equipped with a heater for astronauts to heat their food.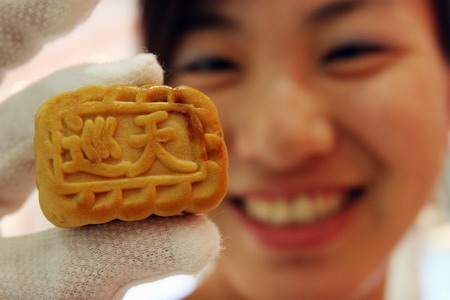 An employee shows a moon cake for Chinese astronauts on their space mission during a space food show in a collectibles shop in Beijing October 7, 2008. [Photo/VCG]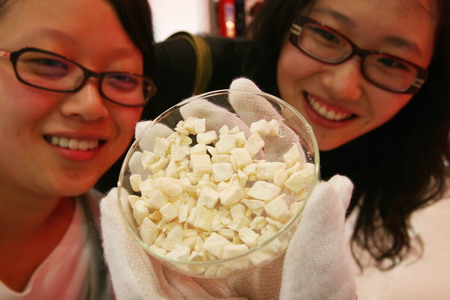 Two young women show interest in a small plate of reconstituted dried fruit for Chinese astronauts during a space food show in a collectibles shop in Beijing, October 7, 2008. [Photo/VCG]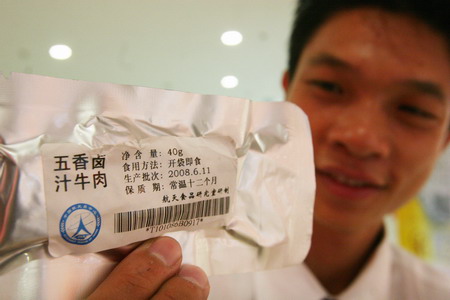 An employee shows a bag of beef, a kind of the space food for Chinese astronauts, in a collectibles shop in Beijing October 7, 2008. [Photo/VCG]