Experts want sex education tackled by schools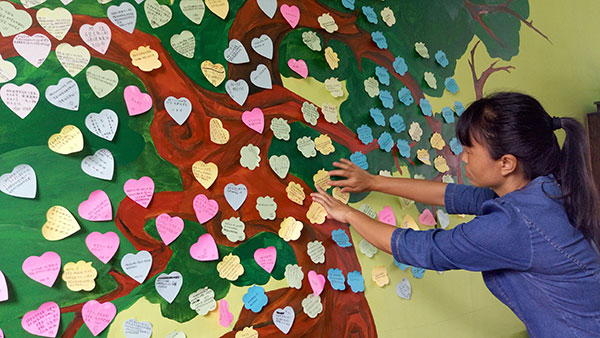 A teacher at Yingjiang No 3 High School posts students' love messages in the school's Youth Love Station on June 22. YANG WANLI/CHINA DAILY
Optional choice
Sex education is not a required course in China's nine-year compulsory education system. In the country's "normal" universities-those that teach a range of unrelated subjects and are also responsible for teacher training-there are no majors in sex education.
In 1994, Capital Normal University in Beijing became the country's first college to offer sex education as a minor for undergraduates.
The minor consisted of 12 courses and took two and a half years to complete, according to Zhang Meimei, the professor in charge.
"Participants were mostly driven by their own interest," she said. "The course is not listed in the education system, so there are no related positions in the job market."
Sex education is now an optional course at the college, and the duration has been shortened to one semester.
Zhang said the course offers basic comprehensive sex education, but those seeking deeper knowledge need to consult with professional teachers who specialize in the field.
According to Zhang Jianxin, a professor at the West China School of Public Health in Sichuan, stereotyping is a major obstacle to the promotion of sex education in China.
"Many people still define sex education as 'introducing knowledge about sexual activity', but it covers far more than that," he said.
From physical differences, self protection and safe sex, to tolerance and respect based on gender differences, Zhang said sex education addresses the root issues that help teens make responsible decisions that will keep them safe and healthy.
"Sex education is about love-an inescapable topic for all of us. It guides us to know ourselves and others. It will be easier to build better social and close relationships based on such understanding," he said.
"Those pilot projects will initiate some changes among the younger generation, which I believe could be a great driving force for a national campaign in the future."
Experts urge age-appropriate action
In the Netherlands, sex education, or more accurately education about sexuality, begins at the earliest levels of schooling, according to Zhang Meimei, professor of sex education at Capital Normal University in Beijing.
Far from young people running wild, however, the type of sex education promoted in the Netherlands has resulted in one of the lowest teenage pregnancy rates in the world (six births per 1,000 women aged 15 to 19), according to the World Bank.
Zhang said comprehensive sex education should be age-appropriate:
・ Kindergarten (ages 2 to 6): Children are taught about body parts, the physical differences between males and females, and privacy around body issues.
・ Primary school (ages 6 to 11): Body development during puberty, basic social conventions of privacy, nudity and respect for others in relationships. Knowledge about human reproduction may also be available.
・ High school (ages 11 to 18): Safe sex and contraception, understanding what makes a positive relationship and what makes a bad one. The class may include an introduction to gender pluralism.
・ College (18 and older): Gender roles in society, expressing oneself, desires and boundaries, how to handle close relationships with others.