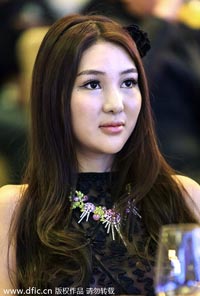 Guo Meimei attends a charity auction in Beijing on Nov 30, 2013. [File photo/IC] 
Guo Meimei, who was at the center of a scandal in 2011 for using the Red Cross name for a private company, has been detained for soccer gambling, Beijing police confirmed on Thursday.
Guo, who was born in 1991 and grew up in Shenzhen, Guangdong province, was arrested in Beijing on suspicion of online soccer gambling during the FIFA World Cup in Brazil.
Guo has confessed to the gambling and the case is under investigation, police said.
Guo posted several micro blogs proclaiming her affection for Brazil's soccer team and saying that she had lost money on lottery tickets she had bought, the Beijing-based newspaper The Mirror reported on Thursday.
Before the World Cup, Guo also showed her gambling experience in Macao on her micro blog, according to the report.
Guo sparked controversy in 2011 after she posted pictures online of her extravagant lifestyle and claimed to be general manager of a company called Red Cross Commerce. The Red Cross denied any ties with Guo, but it was hurt nonetheless by the scandal.
Related story: