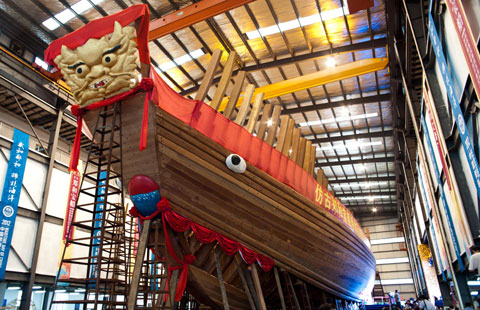 A replica of an ancient ship used by Zheng He (1371-1433) to traverse to the Indian Ocean. The five-story, 71.1-meter-long wooden replica is capable of making a high sea voyage. Song Qiao / for China Daily
The construction of the world's biggest handmade wooden ship, which was supposed to make its maiden voyage in 2014, has been suspended in Nanjing, Jiangsu province.
To commemorate Admiral Zheng He (1371-1433), who undertook seven voyages on a treasure ship around the rim of the Indian Ocean in the 1400s, the government of Nanjing's Gulou district teamed up with a Malaysian electronics company to construct a replica.
The two sides raised $10 million and set up Nanjing Junlong Treasure Ship Properties in October 2005 to carry out the construction. According to their plan, the replica was to go on a trial journey in April 2008.
However, after several construction delays, the local maritime safety administration confirmed in July 2012 that the ship would head out on its first expedition before the city holds the second Youth Olympic Games starting on Aug 16.
Wang Guoping, legal representative of Jintai Ship Research and Design Company, said that the construction delays are due to the Junlong company's lack of funds.
"The company still owes us 1.3 million yuan ($209,300) for designing the replica," Wang said, insisting that technical problems the company has been facing are not the reason for the suspension.
"We've had difficulties in designing the replica because there is no model of such a wooden ship used centuries ago for us to refer to, but we can solve them," said Wang.
Bian Guanghong, head of the Junlong company, denied that the construction work has been suspended.
"Though the construction of the hull has been suspended, we are ordering some equipment to install inside the replica," said Bian. "The craftsmen on the project, who have mastered traditional Chinese shipbuilding techniques and came from Fujian province to help us build the ship, are old and need to have a break this summer. That's the reason for the suspension."
Fang Yourui, one of the craftsmen, said the suspension is related to financial problems.
"The craftsmen can come back to work if Junlong company requires, but some problems between the two companies and the workers should be solved first," Fang said.
The biggest treasure ship of Zheng He's fleet was about 127 meters long and 52 meters wide. The replica of the treasure ship will be about 71 meters long and has a 38-meter-tall mast.
Zheng He, an explorer and diplomat of the Ming Dynasty (1368-1644), took seven expeditions in the Indian Ocean from 1405 to 1433, with some reaching Southeast Asia, South Asia, the Middle East and the Horn of Africa.
Contact the writers at cangwei@chinadaily.com.cn and songwenwei@chinadaily.com.cn