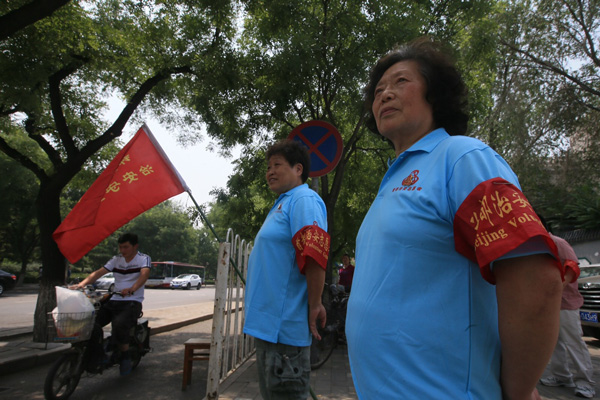 Volunteer security staff members monitor their posts on a street in Dongcheng district in Beijing in May. FU DING / FOR CHINA DAILY
Beijing has deployed an anti-terrorism force of about 850,000 urban volunteers to patrol its streets following recent terrorist attacks across the country.
The capital adopted a similar security measure for the 2008 Olympics.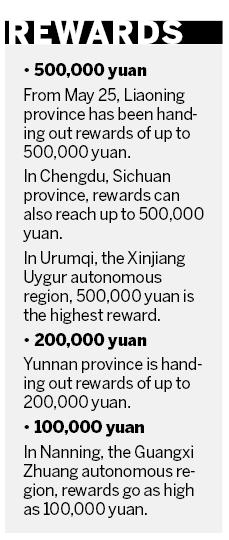 Local residents, including sanitary workers and retirees, have been recruited to work with public security officers and armed police to eliminate any possible danger.
Volunteer security patrollers will be granted accident insurance of up to 400,000 yuan ($64,000), the Beijing Social Administration Commission said.
People who are killed or injured "due to a horrific outburst of violence" while on duty will benefit from the insurance, which is effective from Tuesday and lasts one year, said Liu Xiaowei, assistant to the general manager of the Beijing branch of China Life Insurance Co, which is providing the cover for free.
The money will be paid within 180 days, the company said.
According to the Beijing commission, about 680,000 of the volunteers, or 60 percent, are over the age of 50.
Gao Xuezhong, 65, a retiree who lives in Chaoyang district and is one of the volunteers, said he patrols the local community several times a day and reports any suspicious people to police.
"Dozens of people in the community have volunteered to join the team, and each day four volunteers patrol the streets, two in the morning and two in the afternoon," he said.
Gao said he does not believe a terrorist attack will take place near him, but said he will still carry out his duty carefully during each shift.
A sanitation worker surnamed Chen, another security volunteer who works in the Wangjing area, said he pays attention to pedestrians around him while he cleans the streets. He usually calls the local police if he sees anything abnormal.
He said the accident insurance makes him feel more secure while on patrol.
The volunteers, including retirees and university students, have reportedly eliminated 826 cases of potential safety hazards, resolved 731 public disputes and helped capture 58 suspects during the past two weeks.
Like many cities across the nation, Beijing has introduced rewards, of up to 40,000 yuan, for residents who report substantial information on major threats, according to the city's public security bureau.
Residents can file reports with the city government by calling the police hotline 110, going to the bureau's official micro blog on Sina Weibo, or visiting a local police station.
Contact the writers at zhengxin@chinadaily.com.cn and houliqiang@chinadaily.com.cn