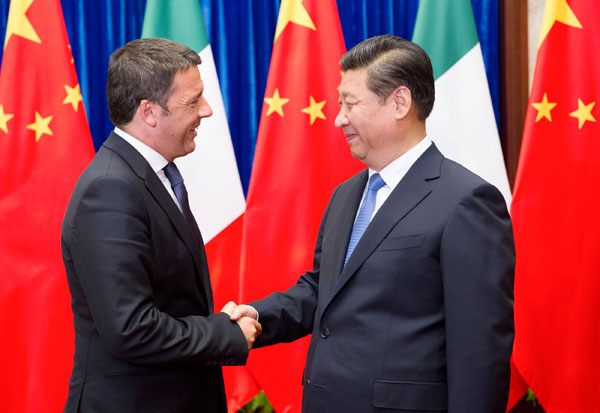 Chinese President Xi Jinping shakes hands with visiting Italian Prime Minister Matteo Renzi in Beijing on Wednesday. [Photo/Xinhua]
BEIJING - Chinese President Xi Jinping met with visiting Italian Prime Minister Matteo Renzi in Beijing on Wednesday and both pledged efforts to strengthen the partnership between the two countries.
During their meeting at the Great Hall of the People, Xi hailed the friendship between the two nations dating back to legendary Italian explorer Marco Polo and missionary Matteo Ricci.
He said China and Italy are important partners that have handled bilateral ties from a strategic and long-term perspective since establishing diplomatic relations.
The China-Italy relationship stands at a new starting point as this year marks the 10th anniversary of the announcement of their comprehensive strategic partnership and the year 2015 marks the 45th anniversary of the founding of their diplomatic relations, Xi noted.
"I hope the two sides will work together to enhance mutual understanding and expand cooperation to elevate the bilateral relationship to a new level," said the Chinese leader.
He proposed China and Italy continue to understand and support each other on issues involving their core interests and major concerns, deepen political trust, increase exchanges of ideas on reform, and boost cooperation on energy conservation, environmental protection, sustainable urbanization, modern agriculture and tourism as well as cultural and people-to-people exchanges.
The two sides should also increase communication and coordination on major international issues to promote world peace and development, according to Xi.
Recalling his visit to Europe in March, Xi said China and Europe should implement the China-EU 2020 Strategic Agenda for Cooperation to advance their comprehensive strategic partnership.
As Italy will assume the rotating chair of the European Union in the latter half of this year, Xi said he hopes the Italian side will continue playing an active role in the development of the China-Europe relationship.
Echoing the Chinese president, Renzi said the Italian side will be even bolder and more far-sighted than Marco Polo and Matteo Ricci to advance the partnership between China and Italy.
The Italian side stands ready to maintain close high-level interactions, increase exchanges on governance and boost cooperation in multiple areas with China, said the prime minister.
Italy will take more measures to facilitate people-to-people exchanges between the two countries, especially for students, Renzi said.
It will also continue pushing Europe-China cooperation and coordinate with China in international affairs, he added.