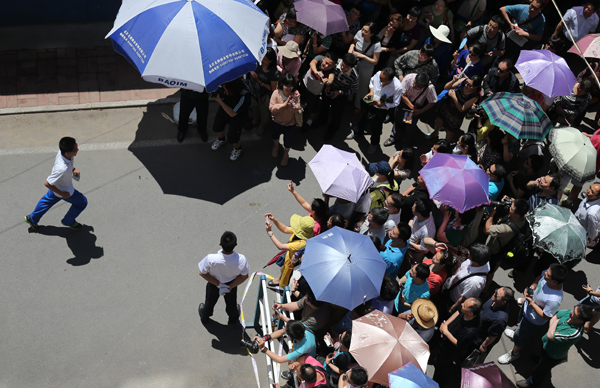 A student leaves the examination hall of the High School Affiliated to Beijing Normal University after he finished the first subject of the National College Entrance Examination on Saturday. About 9.39 million students around the country registered for the test this year. Wang Jing / China Daily


Children and parents anxious about results of National College Entrance Exam
Zhang Libing's son was among the 9.39 million students registered to take the National College Entrance Examination, or gaokao, this year.
The father stood outside the gate of Beijing Hongzhi Middle School, one of the gaokao examination halls in Dongcheng district. He waved to his son as the boy entered the building and flashed the victory sign with his fingers.
The exam began at 9 am.
More than 70,000 students were scheduled to take the exam in Beijing alone. Chinese is the first subject tested.
Zhang said he felt even more nervous than his son.
"My boy usually doesn't get up if nobody wakes him, but he got up on his own at 6 am today," Zhang said.
"I didn't sleep at all."
He worried how his son will perform on the test, since Chinese was not his strongest subject.
Zhang felt a bit relieved when the boy smiled as he entered the hall.
The father then crossed the street and sat in one of the chairs volunteers had set up across the street.
"I'll wait here and drive my son home after the exam ends at 11:30 am," he said.