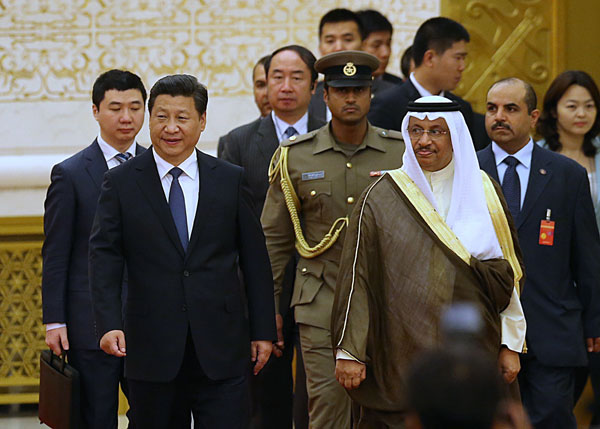 Chinese President Xi Jinping (L) attends the opening ceremony of the Sixth Ministerial Conference of the China-Arab States Cooperation Forum (CASCF) in Beijing, capital of China, June 5, 2014. [Photo by Xu Jingxing/asianewsphoto]
BEIJING - Chinese President Xi Jinping on Thursday urged win-win cooperation between China and Arab states to promote the "spirit of the Silk Road."
Xi made the remarks in his address at the opening ceremony of the sixth ministerial conference of the China-Arab States Cooperation Forum (CASCF) held in Beijing, which called on the two sides to carry forward the Silk Road spirit and deepen their cooperation.
"What China pursues is common development. We want to achieve development for ourselves and we want to enable others to grow as well," he said.
This year marks the 10th anniversary of the CASCF. The forum will mainly focus on the building of the Silk Road economic belt and the 21st century maritime Silk Road as well as promoting mutual development.
Peace, friendship, openness and inclusiveness form the core of the Silk Road spirit.
Xi said that in the coming five years, China will import over $10 trillion in goods and make more than $500 billion in direct investment abroad.
In 2013, China's imports from Arab countries amounted to $140 billion, only about 7 percent of the $2 trillion of goods China will import annually, he said.
China's direct investment in Arab countries last year stood at $2.2 billion, a mere 2.2 percent of the $100 billion China will invest abroad each year, he added.
"Where there is a gap, there are potential and opportunities," he said.
China is ready to dovetail its own development with that of Arab states and support them in increasing jobs, advancing industrialization and promoting economic growth, said the president.
The Silk Road economic belt and the 21st century maritime Silk Road concepts were put forward by Xi during two separate visits to Central Asia and Southeast Asia in 2013.
The two initiatives aim to seize the opportunity of China's continued opening-up, especially opening in the western regions of China.
They will focus on economic cooperation and people-to-people cultural exchanges and prioritize connectivity, trade and investment.
Around 200 guests from China and Arab states, including Secretary-general of the League of Arab States Nabil Elaraby and foreign ministers or representatives attended the forum.