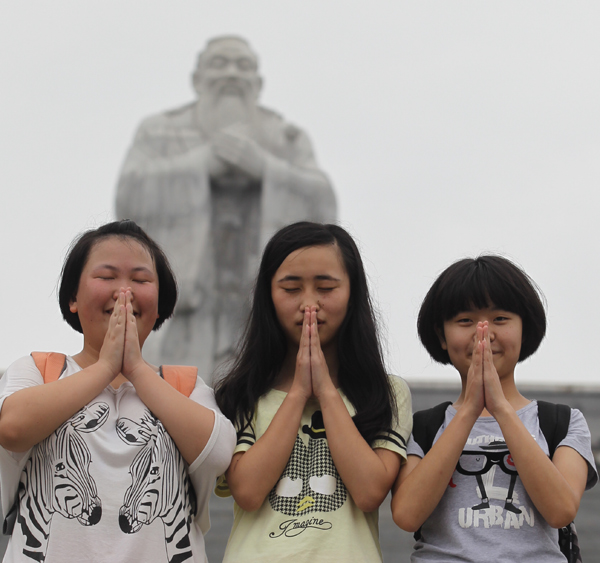 Students pray for good results in the upcoming gaokao in front of a statue of Confucius in Guiyang, Guizhou province, on Wednesday. China's national college entrance exam will be held on Saturday and Sunday. Zhu Xingxin / China Daily
Experts blame falling birth rates, lack of confidence with higher education
Universities in some provinces are failing to meet their student recruitment targets, a survey has found.
Gaokao tidbits

Author: Zhang Yue
Foshan, Guangdong province: A total of 44,097 students are taking gaokao, 1,698 more than last year. Local authorities have banned square dancing, a leisure dance widely favored by elderly Chinese, within 500 meters around the city's testing venues so that students won't be disturbed during the exam. At least two police officers will be on duty at each testing site to handle any accidents during the test.
Beijing: More than 70,000 students got their admission cards on Tuesday for gaokao on Saturday and Sunday. This is the first time the testing will be held in Beijing over a weekend since the city began regulating traffic by license plate numbers, which could cause traffic jams as there are no such limits on weekends. This year, Beijing has set 12 streets as "green channels" during the two-day tests to secure smooth traffic for students. More than 1,700 taxi drivers volunteered to give candidates free rides to testing sites.
Jinan, Shandong province: Hotel prices surrounding the city's 26 testing venues have soared dramatically one week ahead of the test. The price of a single room at a hotel near Jinan No 1 Middle School, one of the testing sites, soared from 188 yuan ($30) per night to 488 yuan.
Yingjiang, Yunnan province: A total of 1,099 students will be taking gaokao in temporary buildings, as the county was hit by an earthquake on May 30. About 127 local schools were seriously affected by the quake. To help with high temperatures, the county will use 10 metric tons of bagged ice to cool down the temporary testing sites for students.
At least seven provinces and one region did not meet their recruitment goals in 2013, according to the College Enrollment Report released on Wednesday by eol.cn, one of the country's largest education portals.
The provinces are Henan, Shandong, Fujian, Anhui, Hebei, Guizhou and Qinghai, along with the Xinjiang Uygur autonomous region. They are the only areas that have disclosed such figures in the past year, eol.cn reported.
Universities in Shandong, for example, planned to recruit 529,900 students in 2013, but only 466,300 were enrolled. Only 536,000 students were admitted by universities in Henan last year, short of the target figure of 606,600.
Shandong has failed to meet its recruitment targets since 2011, while Henan and Anhui have not done so for the past two years, the report said.
Chen Zhiwen, editor-in-chief of eol.cn and one of the report's authors, said the situation was caused by a drop in the birth rate.
"The number of newborns has been falling after peaking at 20 million in 1990 and dropped to 12 million around 2000. This is to say that the number of people aged 18 - the age when most students in China start college - will continue to drop before reaching the bottom in around 2018," Chen said.
Chen also said some students and their parents had been disappointed with higher education in China and had abandoned the opportunity to go to college even after being admitted, which was a significant factor in the current situation.
Last year, a series of cases were reported in which parents opposed their children going to college. This sparked heated debate over the necessity to receive a higher education.
In September, a father in Chengdu, Sichuan province, objected to his daughter's decision to go to college, saying it was a waste of time and money as employment prospects for college graduates were not good. He said it was more sensible to find work after graduating from high school.
In an online survey, more than 70 percent of the 10,000-plus respondents supported the father.
"The case indicates that students and parents are losing their confidence in a college education," Chen said.
"Universities, education specialists and officials should pay great attention to such cases, reflect on higher education and improve the situation to help people regain confidence."
But Wang Xiaoyan, director of the higher education department at the Beijing Academy of Educational Sciences, said, "These are just extreme cases and the overwhelming majority of Chinese families support their children receiving higher education."
Wang added that universities in some provinces failed to recruit enough students because the students had various choices.
She said some students who expected to be admitted to their "dream" universities but who failed to perform well in the gaokao, or national college entrance exam, may give up the chance of going to an ordinary college this year and have a second attempt in the gaokao next year. Others may choose to study abroad even if they are admitted by domestic universities.
"In addition, although some provinces can't recruit enough students, students in many other provinces are competing extremely fiercely for the opportunity of going to college," she said.
zhaoxinying@chinadaily.com.cn