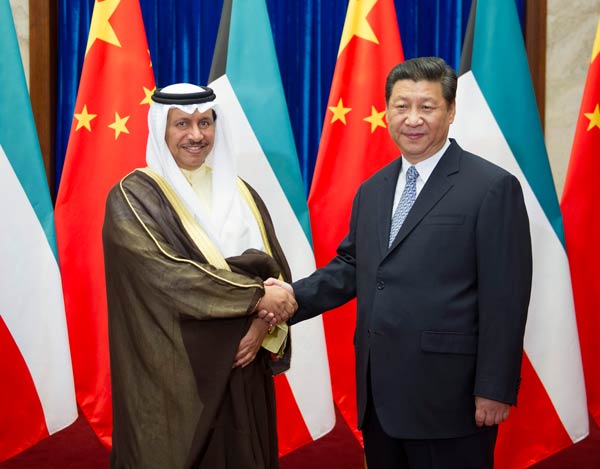 Chinese President Xi Jinping (R) meets with Kuwaiti Prime Minister Sheikh Jaber Al-Mubarak Al-Hamad Al-Sabah in Beijing, capital of China, June 4, 2014. [Photo/Xinhua]
BEIJING - Chinese President Xi Jinping said here on Wednesday that China pays great attention to the situation in West Asia and North Africa, during a meeting with visiting Kuwait Prime minister Sheikh Jaber Al-Mubarak Al-Hamad Al-Sabah.
Xi said that China supports Kuwait to play a positive role in regional affairs, and stands ready to work with countries in the region to promote political solutions of regional issues and safeguard local peace and stability.
"China stands for maintaining the international nuclear non-proliferation system and establishing a nuclear weapon-free zone in the Middle East," he said, adding that China opposes any development of nuclear weapons and interference with the internal affairs of countries with the Gulf Cooperation Council (GCC).
Jaber conveyed a letter from Emir of Kuwait Sheikh Sabah Al-Ahmed Al-Sabah to Xi, in which the Kuwaiti Emir extended greetings to the Chinese president and spoke highly of their bilateral relationship.
Kuwait attaches importance to the relations, and backs China to protect national sovereignty, security and territorial integrity, as well as to crack down on the "three evil forces" of separatism, extremism and terrorism, Jaber said.
He voiced Kuwait's appreciation for China consistently upholding an objective and fair stance on issues concerning the Middle East and Gulf Region, and expectation that China will maintain its constructive role in the drive aimed at realizing peace and stability in the region.
The two sides agreed to cooperate in building the economic belt along the Silk Road and the 21st-century maritime Silk Road, push forward negotiation on a free trade zone between China and the GCC, and further cooperation in such areas as infrastructure construction and logistics.
Xi cited a proverb that is popular in both countries which says that "a friend in need is a friend indeed," and said the saying is a true reflection of China-Kuwait relations.
The Chinese president called for a strategic partnership to be forged in the energy field, featuring cooperation covering the upstream and downstream of the energy industry. And he also called for cooperation in new energy.
China would like to work with Kuwait to lift their friendship to a new high, he added.
Later on Wednesday, China's top legislator, Zhang Dejiang, also met with Jaber, pledging to boost parliamentary exchanges between both countries.
Calling Kuwait an important partner in the Middle East and the Gulf region, Zhang, chairman of China's National People's Congress (NPC) Standing Committee, said the two countries had reached broad consensus in boosting bilateral cooperation during Jaber's ongoing China trip.
As Kuwait currently holds the GCC rotating presidency, Zhang said he expects the country to play a positive role in boosting China-GCC cooperation.
The NPC hopes to cement exchanges and cooperation with the National Assembly of Kuwait, to promote healthy and stable growth of bilateral ties, and benefit the two peoples with the achievements of bilateral cooperation, according to the legislator.
Describing his China visit as very fruitful, Jaber said Kuwait is committed to strengthening Kuwait-China, Arab-China and GCC-China relations.