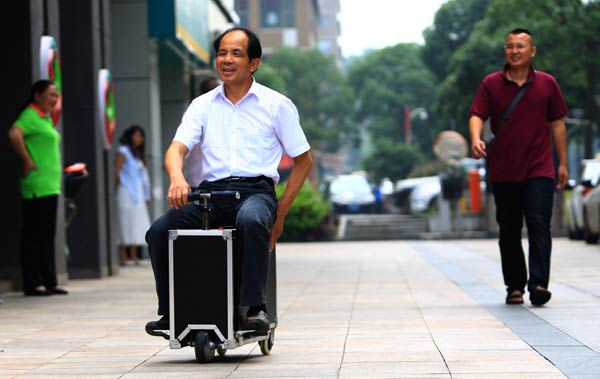 He Liangcai rides his invention - the combination of a scooter and a suitcase - in Changsha, Hunan province. The farmer has been granted a patent and expects his invention to be manufactured. Zhou Qiang / for China Daily
A man in Changsha, Hunan province, has spent the past 10 years building a battery-powered scooter-suitcase.
He Liangcai, a farmer with a primary education, invented and patented what could be called a scootcase, taking rolling luggage to a whole new level
The 7 kilogram scootcase, powered by a rechargeable lithium battery, can carry two adults at speeds of up to 20 kilometers per hour for a distance of 50 to 60 kilometers when fully charged.
The scooter's body is embedded into a suitcase, on which the rider sits holding handlebars that control the throttle, brakes and lights.
The scootcase is equipped with GPS and a burglar alarm.
He said the invention can solve various problems for commuters.
"When you can't get a cab during rush hour, the suitcase vehicle will come to your rescue," He said. "It gives tourists with heavy luggage a more relaxed way of carrying their belongings."
The scootcase is a green product, he said, and won't pollute the environment or make noise.
The former auto repair shop operator said he was always impressed by cars that had been disfigured in accidents. "The mangled cars made me keen to study all kinds of car accidents, to find a way to avoid such tragedies," he said.
He then began working on a car-safety system. After years of crash tests, he designed an innovative system in 1999 that earned him an inventor award in the United States.
When he traveled to the US to receive the honor, he forgot his luggage at the airport.
"It was quite an exhausting trip traveling from China to the US, and I had to carry my heavy luggage along the way."
But he said he had already come up with the idea of making a drivable suitcase by that time.
The idea shifted his inventive energy, and he began to research a variety of suitcases.
His experience working in the auto repair shop helped him experiment with the electric scooter-suitcase concept.
Because of his limited education, he still had to consult with many experts and professionals during the process.
He said he has spent about 1 million yuan ($160,100) on research and development.
He said he planned to present his invention to firms across the country and hopes to mass product it.
"I hope the suitcase will become popular, a common vehicle on the street, bringing convenience to more people," he said.
Sun Li contributed to this story.
fengzhiwei@chinadaily.com.cn